Meta.Morf 2022 / Trondheim Academy of Fine Art (KiT), NTNU /
Exhibition Program May 3–June 19 / Curator: Alex Murray-Leslie
Signaling
Amalia Raye Wiatr Lewis [US]
Signaling is a sprawling, networked project made in collaboration with the mycelium of oyster mushrooms, several dancers, many citizen scientists on Youtube, a sound-artist, several writers, a designer, and the audience. There are elements of the project concurrently on view at Vitensenteret i Trondheim, K-U-K – Kjøpmannsgata Ung Kunst, Kunsthall Trondheim, and Nils Aas Kunstverksted. The primary site of this project at Vitensenteret i Trondheim is an immersive sculpture- and sound-installation built by and for the mycelium. This site functions as a space for lectures, performances, and experiments that invite the audience to think with, care for, and learn from the fungi. This work explores ideas of community, caretaking, and mutual systems of support as modelled by the role of mycelium on the planet. It is a meditation on more-than-human methods of communication and symbiotic relationships. This project lies in the intersection of artistic research and science. It references theoretical, anthropological, and ecological texts while borrowing methods and practises found in architecture, sound art, social practise, and contemporary choreography.
Signaling has been commissioned by and is part of NTNU Ocean Week May 2 – 4, 2022 ntnu.edu/ocean-week
Signaling is kindly supported by Kunsthall Trondheim, Trondheim Academy of Fine Art NTNU, NTNU OCEANS.
Program
Vitensenteret i Trondheim, May 3 – June 26
K-U-K – Kjøpmannsgata Ung Kunst, May 14 – June 6
Nils Aas Kunstverksted, May 15 – June 12
Performance
Signaling by Amalia Raye Wiatr Lewis / Sound design by Øystein Fjeldbo
Kunsthall Trondheim, May 14 @ 13:00 – 15:00
Vintesenteret i Trondheim, May 21 @ 17:00
For a full list of collaborating performing artists as part of Signaling see: amaliarwl.com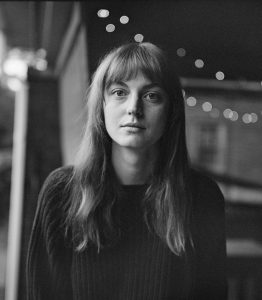 Amalia Raye Wiatr Lewis
Amalia Raye Wiatr Lewis (b. 1994, Los Angeles, USA) is an interdisciplinary artist working with live art, performance, experiences, and objects. She received her BA from Bennington College in Vermont (USA) where she studied choreography, visual art, and anthropology. She has performed for national and international artists at galleries and museums, including the Philadelphia Museum of Art, the Institute of Contemporary Art in Philadelphia, Crush Curatorial in New York, Kurimanzutto Gallery in Mexico City, and the Bergen Kunsthall in Norway. Amalia has shown her own work in the USA, Norway, Germany, and Pakistan. For two-years she was a curatorial member of Little Berlin, an artist-run gallery in Philadelphia, USA. She is currently a graduating MFA student at the Trondheim Academy of Fine Art in Trondheim, Norway.
Photo credits: "Signaling, fungal instrument" by Amalia Raye Wiatr Lewis & Øystein Fjeldbo, 2022. Photo: Amalia Raye Wiatr Lewis.
Portrait Photograph: C. Thomas Lewis.