Meta.Morf 2022 / Kunstmuseet Nord-Trøndelag / Artist conversations June 16 @ 18.00 / Curator: Frida Marie Edlund
Art as research
Screening of #tjaetsie (water) knowknowknow, 2017, 18 min by Sissel M. Bergh.
Conversation with Sissel M. Bergh and Ellen Sofie Griegel.
Kunstmuseet Nord-Trøndelag invites you to a conversation with the artists Sissel M. Bergh and Ellen Sofie Griegel. The conversation is based on the artists' approach to art as exploration and research. Nature plays a central role in both Bergh's and Griegel's art. Bergh makes visible the human relationship to their surroundings and different views on ownership of land and sea.
We are screening the short film #tjaetsie (water) knowhowknow, 2017 by Sissel M. Bergh. Tjaetsie means water in Southern Sami. In the film, we get to dive down into the sea and into Trondheim's inner fjord. We are led through a story about our oceanic conditions. The goddess of the Trøndelag coast, Guri Kunna (Gorij gujne in Southern Sami), represents the sea itself. #tjaetsie is the first film in the knowhowknow series, which examines the relationships and knowledge we have to our physical environments.
Griegel explores aesthetics, magic and poetry in nature and science, and works on complex projects over longer periods of time. Through studies of the earth's many cycles, she seeks answers to how things are connected. Griegel wants to visualize hidden communicative structures in nature. During the conversation, we get an insight into her process and work.
Ellen Sofie Griegel [NO]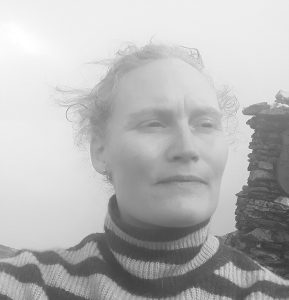 Ellen Sofie Griegel (b. 1975) is a visual artist from Trondheim who works with sculpture, installation art and graphics. She has a BA and MFA from the Bergen Academy of Art and Design (2007) and has exhibited at Trafo Kunsthall, RAKE exhibition rooms, Østfold Kunstsenter, Kunstmuseet NordTrøndelag and Norwegian Graphic Artists. She has completed several public art commissions and her works are included in the art collections of Trondheim Municipality, Steinkjer Municipality and Kunstmuseet NordTrøndelag.
Griegel explores the construction of form; technically, materially and conceptually. Through art, she investigates whether everything that exists and happens is connected to each other, and whether there is a common starting point and a building block for everything. Process and method have a clear role in her projects.
Sissel M. Bergh [NO]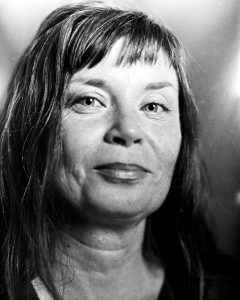 Sissel M. Bergh (b.1974) is an artist from Southwest Sápmi/ Trøndelag, working from Tråante and Fovsen – in cooperation with diverse knowledge(s) in order to relate to and understand the physical and invisible world(s): How to reread relations, land, memory, power and magic.
In recent years her focus has been on the internal logic of the South Sámi language, in order to understand the local lands, and change the story about our past. Her body of work is shaped through film, objects, painting, drawing, installations, text etc.
In 2019 her work was part of Gøteborg International Biennale of Contemporary Art, in 2020 Nirin – the 22nd Biennale of Sydney. Recent exhibitions: ØKS, Norway and SAW gallery, Ottawa, Canada. Educated from National Academy of Fine Arts Oslo and University of Technology in Durban, South Africa.
Header Graphics: "#tjaetsie (water) knowknowknow" by Sissel M. Bergh.