Meta.Morf 2022 – Ecophilia / Dokkhuset / Concert May 20 @ 20.30 / Doors open 20.30
Double concert night! Including VASSVIK: VASSVIK MEETS OMNI ANIMA / A FOOT IN BOTH WORLDS @ 22.00 / Tickets 240/300 here

Fake Synthetic Music
Stine Janvin [NO]
Fake Synthetic Music is a concert performance, an artistic method, a record release and an ongoing exploration of the voice as instrument. Inspired by composers such as Evol, Marcus Schmickler and Maryanne Amacher, Janvin's interest is aimed towards a physical experience of the architectural and theatrical aspects of sound, light and performance.
The acoustic voice produces simple melodic sequences. A condensed, sinewave-like sound references electronic pop, trance and techno, and the underlying idea is to create a massive physical sound experience from a single mono signal of a human voice. The sound of the voice through the microphone combines with a digital echo so that the direct signal and the digital echo play together. According to Janvin, this creates continuous difference tones that stimulate otoacoustic emissions in the listener. In performance, the entire room is filled with smoke and lit solely by four strobe lights with yellow filters. The light is triggered by the echo effect via MIDI, and the strobes flash in various rhythmic patterns designed and programmed by Morten Joh.
The audience is completely immersed in the smoke that is filled with sound and light, and the totality might provide an experience reminiscent of synesthesia or trance.
Stine Janvin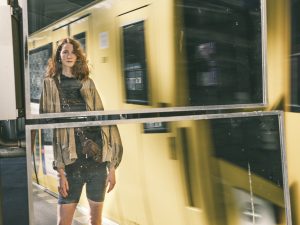 Stavanger-born vocalist, performer and sound artist Stine Janvin works with the extensive flexibility of her voice, and the ways in which it can be used to channel physicality of sound. Created for variable spaces from theatres, to clubs and galleries, and more recently websites and digital platforms, the backbone of Janvin's projects focus on exploring performance formats, vocal instrumentation and potential dualities of the natural versus artificial, tangible/digital, and minimal/dramatic.
Header Graphics: "Fake Synthetic Music" by Stine Janvin. Photo credit: Karina Gytre.
Portrait Photograph: Jasper Kettner.