Meta.Morf 2022 – Ecophilia / TEKS.studio / Exhibition May 7 – July 31 /
Curator: Zane Cerpina / Co-curator: Espen Gangvik
LIFE SUPPORT SYSTEM (AKA THE FARM)
DISNOVATION.ORG [PL/FR/DE]
This artistic provocation seeks to estimate the orders of magnitude of critical ecosystem services fundamental to all planetary life processes.
It is common to describe our relationships with society, the world, and the biosphere with metaphors from economics, which has specific understandings of value. With regard to the biosphere, today's prevailing economics conventions are unable to recognize intrinsic value to the ecosystems on which all life depends. In cultures overdetermined by concepts from economics, we are left without adequate discursive instruments to socially or politically address the importance of the work of the biosphere.
The Life Support System experiment consists of 1 square meter of wheat, cultivated artificially in a closed environment. All inputs such as water, light, heat, and nutrients are measured, monitored and displayed for the public. This one square meter unit of Life Support System is capable of furnishing 1 day's worth of necessary caloric nutrition for one human adult every 4 months. To feed a single human adult all year would require approximately 100 such units running concurrently. This procedure makes palpable the orders of magnitude, of material and energy flows, that are required to reproduce human nutritional requirements in closed or artificial environments, in contrast to outdoor agriculture on arable land. This indoor farm experiment is a counter-example which points to the vastness of the ecosystem contributions involved in conventional agriculture, that defy conventional economic reductionism.
By attempting to grow, in a closed environment, a staple food like wheat, which has historically provided the greatest proportion of necessary caloric intake for humans in Europe, this experiment provides a sense of scale of ecosystem contributions that are poorly acknowledged under the current economic conventions.
The empirical true-cost estimates obtained through this indoor experiment are about 200€ per kilogram of wheat, an extravagant cost compared to the 15 cent per kilogram current market price. Though hydroponics can be used for certain plants, for necessary caloric nutrition there is as yet no economically justifiable replacement for conventional agriculture embedded radically and immanently in the biosphere.
This experimental farm foregrounds the incalculable ecosystem services demands of conventional agriculture which we expect to access for free. On the other hand, closed environments must artificially reproduce these services at high social, energy and ecosystem costs which are mostly not accounted for. From a much broader perspective, this art experiment provides a speculative reference for a reckoning of the undervalued and over-exploited work of the biosphere. Ecosystem processes provide the primary value at the core of each of our daily economic interactions within society.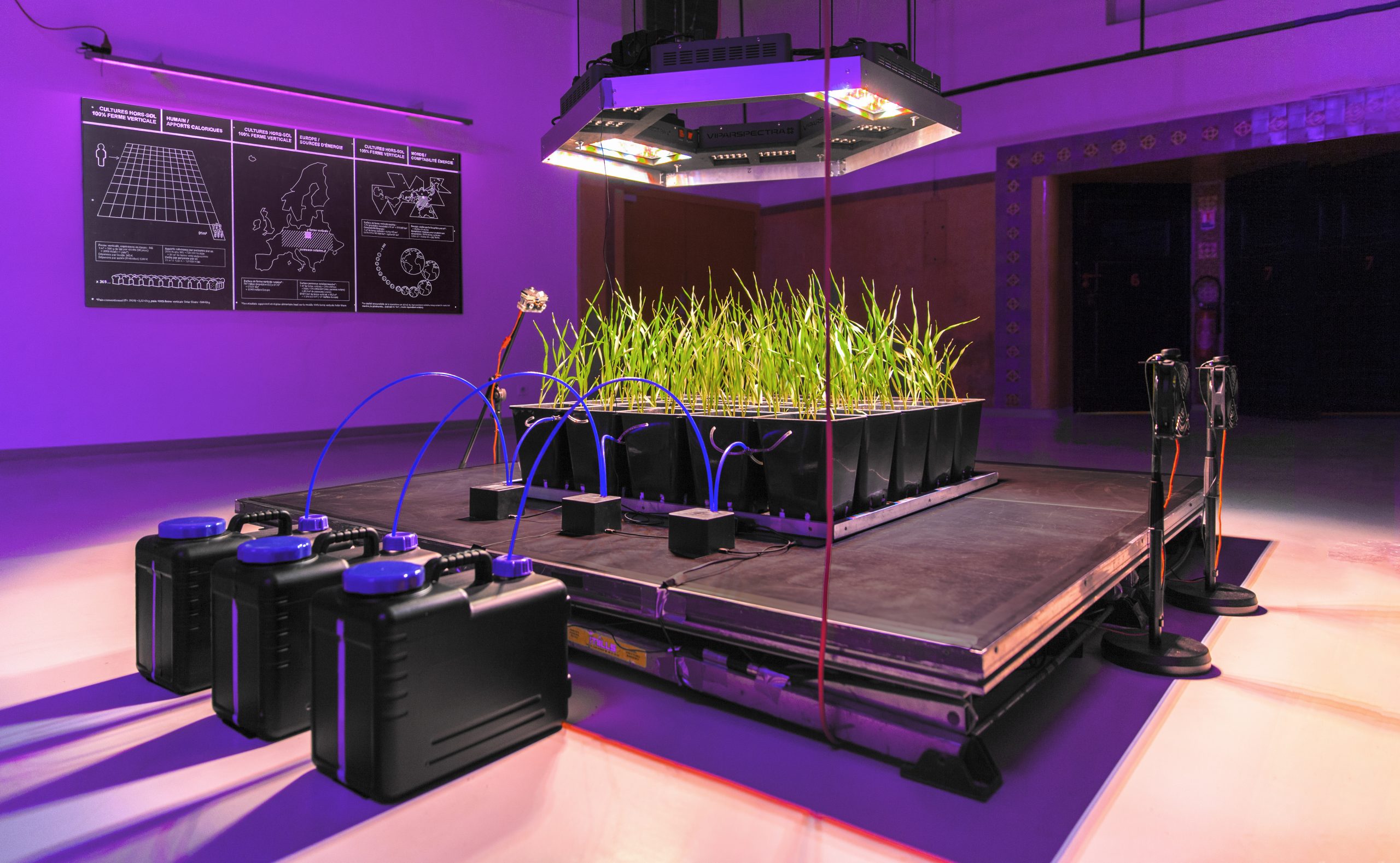 Credits:
Conception: DISNOVATION.ORG & Baruch Gottlieb
Web developer: Jerome Saint-clair
Prototype developers: Vivien Roussel, Thomas Demmer
Production: iMAL (BE) | Coproduction: Biennale Chroniques (FR)
Format:
Installation, 1m2 of automated cultivation, LED grow lights, camera, live video streaming
DISNOVATION.ORG 

Founded in 2012 by Nicolas Maigret and Maria Roszkowska, DISNOVATION.ORG is both an art collective and an international workgroup engaged in the crossovers between contemporary arts, research and hacking. Artist and philosopher Baruch Gottlieb joined the collective in 2018. Together, they develop situations of interference, discussion and speculation that question dominant techno-positivist ideologies in order to foster post-growth narratives. Their research is expressed through installations, performances, websites and events. They recently co-edited A Bestiary of the Anthropocene, an atlas of anthropic hybrid creatures, and The Pirate Book, an anthology about media piracy.
Their work has been presented at numerous art centers and festivals internationally such as Centre Pompidou (Paris), Transmediale (Berlin), the Museum of Art and Design (New York), Palais de Tokyo (Paris), FILE (Sao Paulo), ZKM (Karlsruhe), Strelka Institute (Moscow), ISEA (Hong Kong), Elektra (Montréal), China Museum of Digital Arts (Beijing), and the Chaos Computer Congress (Hamburg). Their work has been featured in Forbes, Vice, Wired, Motherboard, Libération, Die Zeit, Arte TV, Next Nature, Hyperallergic, Le Temps, Neural.it, Digicult, Gizmodo, Seattle Weekly, torrentfreak.com, and Filmmaker Magazine among others.
Header Graphics: "Life Support System" by DISNOVATION.ORG.
Production: iMAL Brussels (BE) | Coproduction:Biennale Chroniques, Aix-en-Provence (FR) | With The Support Of: Production Intérieure Brute (FR), ArTeC Paris (FR), Le Labomedia Orléans, (FR) CNC (Dicréam)(FR), University of California Irvine (USA)