Meta.Morf 2022 / Babel visningsrom for kunst / Exhibition April 1–April 24 /
Curator: Lena Katrine Sokki
Performance anxiety
Samuel Brzeski [UK]
A sea of language flows through a panopticon of palm sized screens vying for attention and demanding cognition. Mirrored echoes of the disjunctions between phonocentric and logocentric forms of communication act through stuttered speech, residual sound, fading text. In an environment where information overload is deployed liberally, text begins to haunt as it accelerates to an almost spectral speed. Barely visible — a ghost image.
The solo exhibition Performance anxiety presents new multimedia installation works at BABEL visningsrom for kunst. Taking the methods of digital age language-based information transfer as a starting point, the work focuses on such things as speed reading applications, practices of compulsive list-making, and neoliberal productivity drives. The screen is seen as a sculptural object in its own right; the hand-held tablet as a pressing conduit. Through video, text, sound, and voice, Performance anxiety explores acts of reading, misreading, and force-feeding.
This exhibition is supported by Bergen Kommune, Norsk Kulturråd and Billedkunstnernes Vederlagsfond.
Samuel Brzeski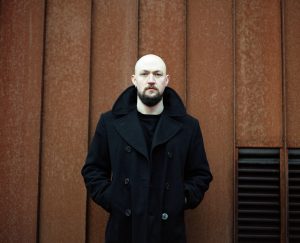 Samuel Brzeski's (1988, London) current work deals with the situation of language within a post-digital context, particularly in relation to articulations of affect. His works search out the place and presence of the emotive body within the swirl of excess language surrounding the contemporary subject. Working primarily with acts of reading and vibrational semantics, the works investigate how the emotional impacts of digital culture are manifested through language in its many malleable forms. Reconfigurations of existing texts feature prominently, with texts selected for their poetic and political vibrations. A guiding principle of inherent rhythmicity is seen throughout the projects, which materialise as multimedia installations, vocal performances, and hybrid texts.
Brzeski has a BA in English Literature from the University of Sheffield, an MA in Fine Art from Bergen Art Academy. He also studied at the Mountain School of Arts program in Los Angeles. Recent and ongoing projects include exhibitions, performances, and publications with Lydgalleriet (Bergen), Østre (Bergen), Studio 17 (Stavanger), Inversia Festival (Murmansk), KRAFT (Bergen), Galleri Box (Gothenburg), and Chao Art Centre (Beijing). Since 2016, Samuel has been a leading member of the art writing collective and publishing platform TEXST.
Samuel is based in Bergen, Norway.
Header Graphics: "Performance Anxiety" by Samiel Brzeski.
Portrait Photograph: Nayara Leite.