Meta.Morf 2022 / Vitensenteret i Trondheim / Installation May 3 – June 19 / Curator: Åshild Adsen
PLASTIVORE
Oliver Kellhammer [CA/DE/US]
Plastic pollution is one of the biggest crises of today. And, although many countries today are banning the use of single use plastics, the amount of plastic surrounding us can feel overwhelming. Polystyrene is a large component of our global waste problem. A non-biodegradable material and a major component of both marine and terrestrial pollution. Styrofoam (expanded polystyrene) is a difficult to recycle component of the global waste stream. With his botanical interventions Oliver Kellhammer seeks to find solutions through his art practice.
Kellhammer collaborated with students at Parsons School of Design in New York to demonstrate how insects could help us break down this plastic problem making a protocol and allowed viewers to watch mealworms dine on polystyrene.
Recent research shows that the mealworm (Tenebrio molitor) has the amazing ability to biodegrade styrofoam via symbiotic organisms that live in its gut. Kellhammer has worked with students at Parsons over the past few semesters to develop protocols to demonstrate this process.
The installation consists of partially degraded Styrofoam objects that have been exposed to the mealworms for a while. As objects of contemplation, they are reminiscent of the Scholar's Stones (pinyin: gõngshí) that have long been celebrated in China and Japan.
Kellhammer's installation was first exhibited at Science Gallery Dublin in 2018 and Melbourne in 2019 and we are delighted to present this project at the Science Center in Trondheim.
Oliver Kellhammer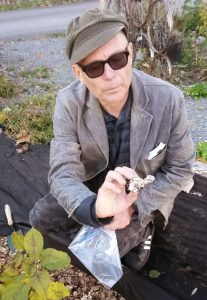 Oliver Kellhammer is an artist, writer, and researcher who seeks, through his botanical interventions and social art practice, to demonstrate nature's surprising ability to recover from damage. Recent work has focused on the psychosocial effects of climate change, decontaminating polluted soil, reintroducing prehistoric trees to landscapes impacted by industrial logging, and cataloging the biodiversity of brownfields. He is currently a lecturer in sustainable systems at Parsons, NY.
Header Graphics: "Plastivore" by Oliver Kellhammer.