Meta.Morf 2022 / Dropsfabrikken / Exhibition April 28–June 26 / Curator: Anniken Storhaug
By drawing the waves I saw the sea where the waves gathered
Simone Hooymans [NL/NO]
The exhibition title By drawing the waves I saw the sea where the waves gathered refers to the way Simone Hooymans works. She draws separate elements that are often inspired by natural and organic forms which become part of one universe. There the elements transform over time. It is also symbolic for the way of believing that humans, flora, and fauna are all connected with one another and together are part of a complete cycle of life and that to damage one is to damage the other.
For the most part, Hooymans' works develop from her interest in ecological ideas concerning the state of the earth and the relationship between humans and nature. Her sources often come from her fascination for historical manuscripts and scientific research like the botanical Voynich manuscript and Ernst Haeckel´s vision of nature. But also from the vision of the Apocalypse from the middle ages. All researchers are searching to declare life in any form based on scientific proof as well as on humans' belief in hope and desire for natural beauty.
The video installation Chapel of Very Small Creatures invites you to enter a sacred chapel with a dark universe where fragile illuminated creatures are floating around. They seem to be aware of the one who watches and they move towards them and away to finally disappear into the vastness of the Universe. Why are they there and what are they telling us? Are they the keepers of nature or tiny angels or do they come from our own theatre of the mind?
The illuminated creatures are inspired by the primitive life forms drawn by the illustrator and scientist Ernst Haeckel. Haeckel strongly believed that nature in all its forms is divine and should therefore be worshiped.
In contemporary nature religion, there is often talk of a sense of connection and belonging to the earth's living systems or the universe as a whole. Hooymans lures you into the worship of nature's beauty and magical universe. Asking the question: how strongly do we believe in nature and to what extent do we project our needs and reflections on nature and make it our own?
Hooymans explores the convergence point between our reality and the so-called invisible world of belief. With a fascination for ecology and the inexplicable in science, she explores how the two translate and interact with contemporary life and how to convey the essence of her research on an imaginary level.
Simone Hooymans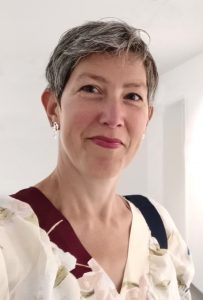 Simone Hooymans (1974) is born in the Netherlands and for the past 10 years has been living and working in Norway. She graduated from the Art academy for visual art in Arnhem (Artez) and the Art Academy Breda (St.Joost) in the Netherlands. Hooymans is an awarded filmmaker and has participated in a number of international group exhibitions and film festivals. Among others, Ars Electronica (2009), Høstutstillingen (2017/2019), Vestlandsutstillingen (2017), Grimstad Short Film Festival, the Beijing Short Film Festival, the Suwon IPark Museum of Art in South Korea. She won the audience award for best animation during the animation festival ReAnima in Bergen in November 2020 for the film Earthfall.
In 2020 she distinguished herself during the opening exhibition of Deichman's new main library in Oslo, with a larger video installation Talking Plants. Hooymans works a lot with the interplay between innovative music and art with her animations and video installations. She has collaborated with several Norwegian musicians.
Simone Hooymans works primarily with drawing and animation. Her experimental animations are based on a hand drawn world which is brought to live with digital animation techniques to make elusive yet disturbing landscapes. The reason she started using this technique is because she had a desire to step into her own drawings. She wanted to see how the compositions of her drawings would enfold if she kept on going deeper into the drawing and let the story tell itself naturally. Simone's hand-drawn animations are characterized by fantastic colors and fascinating movements that take the viewers into new universes. The botanical and organic drawings are created out of research about shape, color and movement and is often a pre-drawing before the actual animation is made. The characters are revealing themselves during this process.
Her work is built in layers, physical and metaphorical, incorporating images that are frequently disembodied from one another, but create a visual whole. Mostly Hooymans works develop out of her interest in ecological ideas about the state of the earth and the human relation with nature. But also a political view emerges often in her animations.
Header Graphics: "Chapel of Very Small Creatures" by Simone Hooymans.