Meta.Morf 2022 – Ecophilia / Dokkhuset / Conference May 20 / Curator: Zane Cerpina
Aquadisia: The Science of Sentience 2.0
Stephanie Rothenberg [US]
What if humans could cure climate change by simply drinking a special potion? A potion that would create an equal playing field between all entities, human and other-than-human? And now imagine that this special potion is made by a new species of bioengineered oysters. These new and improved cyborg oysters secrete a fluid that when ingested turn that ecstatic feeling of aphrodisia in humans into a new state of sentience – an "aquadisia"! Our insatiable consumptive desires are transformed into sensorial and energetic pleasures beyond the mere sexual, leading to new forms of sentient interconnections with the cycle of life.
Aquadisia is a speculative design project that plays on the myth of the oyster as an aphrodisiac to reimagine a more mutually symbiotic relationship between humans and other-than-humans. The project manifests through video, an interactive installation and documented experiments modifying oyster DNA using gene manipulation tools such as CRISPR conducted at the Coalesce Center for Biological Arts in Buffalo, New York. The project narrative engages a pseudo scientific overview of the process for creating this magical fluid. Anyone can access it by simply turning on their faucet and taking a drink. It begins with extraction and gene manipulation of the organisms in the lab, studies on its effect on the human body, and then moves outward to the ocean where the futuristic aquaculture vessels are being harvested around the world. These structures allow the fluid to be piped into public water systems.
The project explores several critical issues significant to our ecological crisis within the intersection of biotechnology and marine science: the use of nonhuman life for human survival through genetic engineering, the illusion of conservation within the "blue economy" enabled through ecosystem services, and the neoliberal desire to transcend climate change through individuated responses. Moving between reality and fantasy, Aquadisia not only questions human action but also the ethical and economic dimensions of our solutions. Through this presentation I aim to generate discussion on what are the real world possibilities and action steps for moving forward in this vulnerable real world situation we are all in.
Stephanie Rothenberg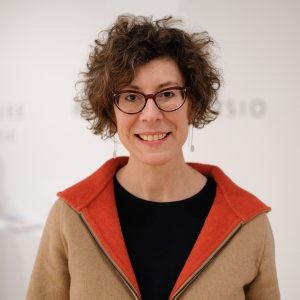 Stephanie Rothenberg's interdisciplinary art draws from digital culture, science and economics to explore symbiotic relationships between human designed systems and biological ecosystems. Moving between real and virtual spaces, she engages a variety of media platforms that include interactive installation, drawing, sculpture, video and performance. Her artworks make visible the terrestrial and digital networks of capital that flow through the bodies of both human and more-than-human entities. Arising from her fascination with techno utopian culture, her multimedia storytelling seeks to reveal the contradictions of its narratives. Topics in her work include the bio politics of digital labor and sustainability myths surrounding the concept of  natural capital.
She has exhibited internationally in venues and festivals including ISEA, Eyebeam Art and Technology Center (US), Sundance Film Festival (US), Massachusetts Museum of Contemporary Art / MASS MoCA (US), House of Electronic Arts / HeK (CH), LABoral (ES), Transmediale (DE), and ZKM Center for Art & Media (DE). She is a recipient of numerous awards, most recently from the Harpo Foundation and Creative Capital. Residencies include ZK/U Zentrum für Kunst und Urbanistik in Berlin, TOKAS / Tokyo Art and Space (JP), the Lower Manhattan Cultural Council Workspace/LMCC (US), Eyebeam Art and Technology Center and the Santa Fe Art Institute (US). Her work is in the collection of the Whitney Museum of American Art and has been widely reviewed including Artforum, Artnet, The Brooklyn Rail and Hyperallergic. She has been a participant and organizer in the MoneyLab research project at the Institute of Network Cultures (NL), co-organizing the 2018 MoneyLab 5 symposium that took place in Buffalo, NY (US). She is Professor in the Department of Art at SUNY Buffalo (US) where she co-directs the Platform Social Design Lab, an interdisciplinary design studio collaborating with local social justice organizations.
Header Graphics: "Aquadisia" by Stephanie Rothenberg.