Meta.Morf 2022 – Ecophilia / Dokkhuset / Conference May 21 / Curator: Zane Cerpina
Tiny Mining: interior geologies
Martin Howse [UK/DE]
I'm starting to feel that the company wants to hide the natural way of doing our things, of farming and eating, so that they can be financed and nourished by the mining that takes place within us. [Testimony from a Tiny Mining user]
We believe that the earth should remain as pristine and untouched nature; we have no desire to carry on extracting resources from a depleted world, polluting and laying waste to the landscape. Saving the planet is now a matter of becoming sensitive to our own geological being. In mining ourselves we gain knowledge of our own bodies, our selves and the global environment. This is a final ecology for the end days. Nature will remain and our technologies will now be sourced from within; we will thus no longer be dependent on scarce and already polluted environmental resources. [Tiny Mining Mission Statement from tinymining.me]
The body is and has always been geological. We can think of kidney stones, of crystals formed in urine and of iron in the blood. We incorporate the earth and its minerals, becoming sedimentary. New layers of anthropological minerals and particles deposit in blood, bones and brain. From 1945 onwards, radioactive Strontium-90 replaced Strontium in skeleton and teeth. This is a new environment which can be extracted as a contemporary, aesthetic resource.
Tiny Mining (TM) is the first open source mineral exploration co-operative and resource specialist committed to the potential exploitation of the interior of the living human body for rare earth and other mineral resources in the interests of human and planetary health.
The wider Tiny Mining community was founded in November 2019, and the initiative is devoted to exploring the culture of self mining through sharing knowledge, advocacy, discussion, tutorials and collective sweatshops. This open community consists of a diverse group of chemists, geologists, artists and alternative medicine practitioners.
Tiny Mining inverts notions of human impact on the environment, of the anthropogenic, turning the idea of the pollution of an outside environment on its head and sensitively inside out. Environmental concerns are no longer out there, in a controlled and surveyed landscape of "nature"; to be protected. The dread-ful "anthropocene" is now an internal story written within interior geologies and in the deep time of ingestion and digestion. Saving the planet is now a matter of looking into ourselves. Tiny Mining users exhibit an extreme and ascetic love for "nature".
"Tiny Mining: interior geologies" explores the practice of Tiny Mining, and examining this practice and community from an anthropological and environmental perspective, asks questions of what Tiny Mining points towards in terms of a new relationship with the environment and with geology.
Martin Howse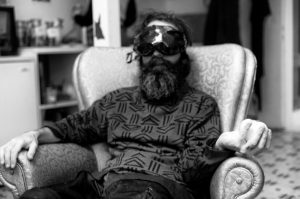 Martin Howse is occupied with an investigation of the links between the earth (geological and geophysical phenomena), software and the a/human psyche (psychogeophysics) through the construction of experimental situations (performance, laboratories, walks, and workshops), material art works, instruments, fictions, texts and software.
From 1998 to 2005 Howse was director of ap, a software performance group working with electronic waste, pioneering an early approach to digital glitch. From 2007 to 2009 they hosted a regular workshop, micro-residency and salon series in Berlin. Howse has worked and collaborated on acclaimed projects and practices such as The Crystal World, Psychogeophysics, Earthboot, Sketches towards an Earth Computer, Dissolutions and Shift Register. For the last ten years Howse has initiated numerous open-laboratory style projects and performed, published, lectured and exhibited worldwide. They have shown works at venues including Transmediale Berlin, Jeu de Paume Paris, ICA London, TEA Tenerife, Taipei Fine Arts Museum and the Pharmacy Museum Basel. Their projects have featured in publications such as The Wire, Handmade Electronic Music, A Geology of Media, and The Routledge Companion to Music, Technology, and Education.
Howse is currently collaborating on several film projects based around the extensive uranium mines and radon spa locations of Joachimsthal, Czech Republic. They are equally the creator of the ongoing ERD modular synthesizer series and founder of the Tiny Mining community.
Header Graphics: "Tiny Mining" by Martin Howse.