Meta.Morf 2022 – Ecophilia / Dokkhuset / Conference May 20 / Curator: Zane Cerpina
The self-hating nature lover
Marius Presterud [NO]
What does it mean to be a lover of nature in this day and age? How has the ecologically aware had to reevaluate their position as a consequence of critique of anthropocentrism? And how do we reconceptualize environmental activism in a time when everything is environmental? In this lecture Presterud makes an appeal to replace former concepts of activism with service.
Service suggests a consolidating, non-reactionary stance. It distinguishes itself from activism through the self-inclusion in immediate, situated, complex and emerging relationships and ecologies, rather than reaching outward to change some external concept or forces in the world that we must by necessity live within. This marks a shift from anthropocentric sentiments towards a perspective of 'becoming-with' the forces at hand, and by doing so, has the potential to replace liberal-humanistic concepts of guilt and culpability with something more decentered.
Marius Presterud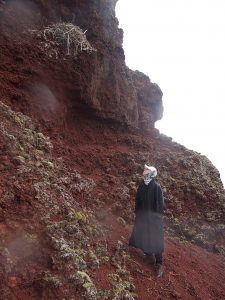 Marius Presterud (b.1980, Drammen) is a Norwegian artist based in Berlin and Oslo. He works across a variety of media; performance, poetry, sculpture and ecoventions. He has toured Europe and been a featured poet at venues in Paris, Berlin and Istanbul, and he has performed in established galleries such as Henie Onstad Art Center, Norway, and Hamburger Bahnhof, Germany. In 2018 he was a debutant at Norway's 131. National Art Exhibition, Høstutstillingen, and in 2021 he had his first solo exhibition abroad, at Exgirlfriend Gallery, Berlin. Common themes throughout his work are a focus on selfhood, significant otherness and societal health.
Previous to working as an artist, Presterud held positions within the field of project management, program coordinating, curatorial research, music and psychiatry. He received his psychologist licence in 2008 and went on to work in the public and private health sector for several years, before being drawn to art's didactic and remedial potential, as well as art as a repository for non-commodifiable values. In the period 2014-2019, he worked full-time with his art- and research based practice, Oslo Apiary & Aviary, which he describes as a "Dark-ecological service provider". He currently works as both artist and group-analytic art therapist.
Photo representing the talk by Lene Johansen.