Meta.Morf 2022 – Ecophilia / Dokkhuset / Conference May 21 / Curator: Zane Cerpina
Sex Ecologies: Gender, sex, and sexuality in the context of ecology
Katrine Elise Pedersen [NO]
In her talk, Katrine Elise Pedersen will discuss the research and the process behind Sex Ecologies, a collaborative exhibition and book developed by Kunsthall Trondheim and The Seed Box, with a public program curated by RAW Material Company.
Sex Ecologies explores gender, sex, and sexuality in the context of ecology. The project is founded in the belief that environmental and social justice go hand in hand. Through a transdisciplinary approach, the exhibition critiques understandings of nature, gender, sexuality, and race that attempt to objectify and naturalize them. For example, "laws against nature" used to criminalize queer sexuality, and in many places still do. These norms are justified through evolutionary narratives exclusively permitting heterosexual reproduction. Everything that does not fit this norm is considered unhealthy, polluted, or "degenerate." These norms have proven detrimental to humans and to the thing we call nature alike.
Sex Ecologies presents newly commissioned works by nine artists made specifically for the exhibition. The artists participated in regular online meetings to workshop their artworks with the exhibition curators and with each other. The process was accompanied by an advisory board for cross-pollination composed of researchers from disciplines like gender studies, environmental humanities, communications, and Indigenous studies. Sex Ecologies highlights the emancipatory role of pleasure and affect beyond the human in our current ecological era, where nature is far from natural. It includes the biological, the technological, the social, and the political. In Sex Ecologies, desire, eros, and care dance with flesh, worms, and spirits.
Katrine Elise Pedersen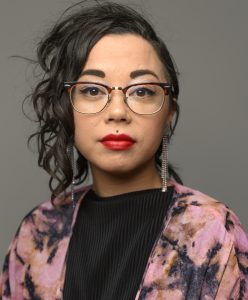 Katrine Elise Pedersen (1988) is an art historian and curator based in Trondheim, Norway. She earned her MA in Art History at the University of Oslo (UiO). Her art historical research has often centred on (the exclusion or inclusion of) the body in performative contexts. Pedersen is curator and producer at Kunsthall Trondheim, and was a part of the curatorial team of Sex Ecologies with Prerna Bishnoi Carl Martin Faurby, Kaja Grefslie Waagen, with Katja Aglert (The Seed Box) and Stefanie Hessler (Kunsthall Trondheim) as project leaders.
Pedersen's curatorial practice has been oriented towards alternative realities, spiritualities, and knowledge systems as well as histories which seemingly have not been included in the main strains of official world narratives. In September 2022, she is curating a solo exhibition with Susanne M. Winterling at Kunsthall Trondheim. Recent curatorial projects include "Unweaving the binary code – Hannah Ryggen Triennale" (2022) curated together with Stefanie Hessler, "Korakrit Arunanondchai: Songs for dying" (2021), «Who Want's to Live Forever?» (2020) curated together with Stefanie Hessler, and «Pia Arke: Wonderland» (2019). She contributed to the catalogue of Diana Policarpo – Nets of Hyphae, published by Mousse Publishing, Galeria Municipal do Porto, and Kunsthall Trondheim (2021). Pedersen is a member of the editorial board of The Norwegian Art Year Book (2020-2023) and board member of The Norwegian Association of Curators (2021-2023).
Header Graphics: Alberta Whittle, "C.R.E.A.M." (2017), C-type print, 91,4 x 121,9 cm. Courtesy Alberta Whittle and Copperfield, London.