Meta.Morf 2022 – Ecophilia / K-U-K – Kjøpmannsgata Ung Kunst / Exhibition May 6 – August 14 /
Curator: Zane Cerpina / Co-curator: Espen Gangvik
Be-coming Tree / 2020 – 2021
Jatun Risba [SI]
A disrobed body is resting immobile on an uprooted tree
in the woods in
a world that is collapsing – HERE AND NOW –
making a pause
re-membering
below the bark
underneath the roots
a still presence speaks and ants crawling around
the coming undone the
be-coming tree. 
Be-coming Tree is an encounter between the live stream of the human World Wide Web and the living mycelium networks of the Wood Wide Web. The artist Jatun Risba forms an embryonic entanglement with woods in order to re-member the invaluable beauty, vigour and generosity of wild landscapes, within and without.
The exhibited video documents Risba's durational act, immersed in the changes of the Panovec forest in Nova Gorica, Slovenia during the four seasons of the pandemic year 2020/21. The first of the artist's actions occurred on 30th of April, 2020. Risba's laying still and naked on the horizontal uprooted tree for one hour was re-enacted and livestreamed by the artist in the summer, autumn and winter. This was one of the many performances included in the first three global Be-coming Tree Live Art events. The initial solitary online & offline performance with an uprooted beech tree was, for the artist, healing and meaningful, providing an insight into the coexistence of life and death in daily existence. The trunk on which the performer was laying in stillness, was a site teeming with life while undergoing the process of self-composting. The response from online audiences was warm, thankful and encouraging.
The performance's tranquil merging of human and more-than-human inspired collective action, leading to inclusive, far-reaching collaboration. Be-coming Tree branched out into a co-creation between three female/non-binary artists with ages ranging from 34 to 73: Jatun Risba, Danièle Minns and O. Pen Be. They have produced seasonal live-streamed collective Live Art events that have so far included 71 artists from 32 countries on 6 continents.
Through a partnership with the TreeSisters organisation — a UK registered female-led social change and reforestation charity that has so far funded the planting of over 22 million trees across 12 locations in Brazil, Borneo, Cameroon, India, Kenya, Mozambique, Madagascar, Nepal and West Papua — the collective Be-coming Tree contributes to environmental restoration by harnessing collective creativity and fund-raising for sustainable tree planting via ticket sales. Artists commune with nature, and audiences experience live art and global ecosystems while supporting planetary restoration via tropical reforestation.
CREDITS
Concept, poem, art direction and performance: Jatun Risba. Video editing: Franco G. Livera. Video footage: Maja Usico, Sašo Batič. With thanks to An Krumberger for technical assistance and support.
Jatun Risba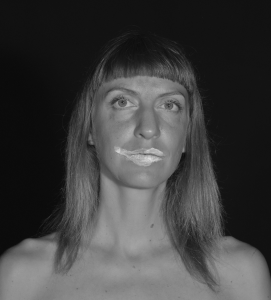 Jatun Risba – ki/kin – is a transdisciplinary artist, a linguist of kinship and parrhesiast (truth-seeker) exploring beyond human paradigms. By approaching Life, Science and Technology in terms of other-emptiness, Risba re-pairs Nature and Culture.
Since 2014, Risba has been developing and teaching the embodied practice of interesse  (to be in-between) or Dance of Life which consists of liminal somatic and vocal expressions in a hyper focused state of unpremeditated nowness. These arts of self, performed among and together with others, create opportunities to reveal, share and harmonise the subtle body. By developing a vernacular form of English named Language of Kinship, whose grammar is based on the use of alternative pronouns ki (sing.) and kin (poss., plur.), the artist is extending the notion of personhood to all spectrums and forms of life.
Risba is a member and artist at STEAM Atelier in Lecce: a catalyst for Social, Science and Technology Innovation. Since 2019, ki has been producing video and photographic works in tandem with artist Franco G. Livera and developing transmedia projects in collaboration with Aloïs Yang (Xiola Yin). As an artist ki has exhibited and performed in numerous venues nationally and internationally including the Bangkok Biennial 2020, Fabbrica del Vapore in Milan, Kersnikova Institute in Ljubljana, Pixxelpoint festival in Nova Gorica and Tate Exchange in London. Ki has been invited to give lectures and workshops at the University of the Underground, at the Goethe University in Frankfurt, at the Strasbourg University, at the Moving Image Research Lab in Montreal, and at TTT2020: Taboo, Transgression and Transcendence in Art and Science conference in Wien. Risba received the a-n Artist Bursary in 2019 and a fellowship for young artists from the ERSTE Foundation in 2020. Ki has published texts, interviews and essays in various printed and online publications. Risba holds a BA (Hons) from NABA, Milan and a PGC in Art & Science from Central Saint Martins – University of the Arts London.
Risba places art in the very centre of existence. Kin art practice is an inseparable expression of everyday life. Every action — expressed through body, speech, or mind — informs and cultivates a fearless self that keeps coming undone, open and fluid. This openness is firmly anchored in non-violence which, according to Risba, is an absolute precondition for the emergence of an Art that is timeless, immeasurable and sublime.
jatunrisba.com / becomingtree.live
Header Graphics: "Be-coming Tree" by Jatun Risba. Photo by Photo by Sašo Batič.