DANGEROUS FUTURES
Conference @ Meta.Morf 2018 / Dokkhuset, Friday May 4 & Saturday May 5, 2018 / Curator and moderator: Zane Cerpina / Co-curator: Espen Gangvik 
ERICH BERGER / ORON CATTS / CERPINA ZANE / BORIS DEBACKERE / ORIT HALPERN / KIRSTY KROSS / MELISSA E. LOGAN / KOERT VAN MENSVOORT / ALEXANDRA MURRAY-LESLIE / STELARC / STAHL STENSLIE / PETR SVAROVSKY / HEGE TAPIO / LIAM YOUNG 
FB EVENT LINK

Gaia is a tough bitch. The catastrophe has already happened. The word "crisis" is the default mode in this the age of the Anthropocene. We are obsessed with the ecological apocalypse. Scared shit-less by the propaganda on global terrorism while waiting for Donald to hit the nuclear switch. We build our society on fear. Are we f***ed?Zane Cerpina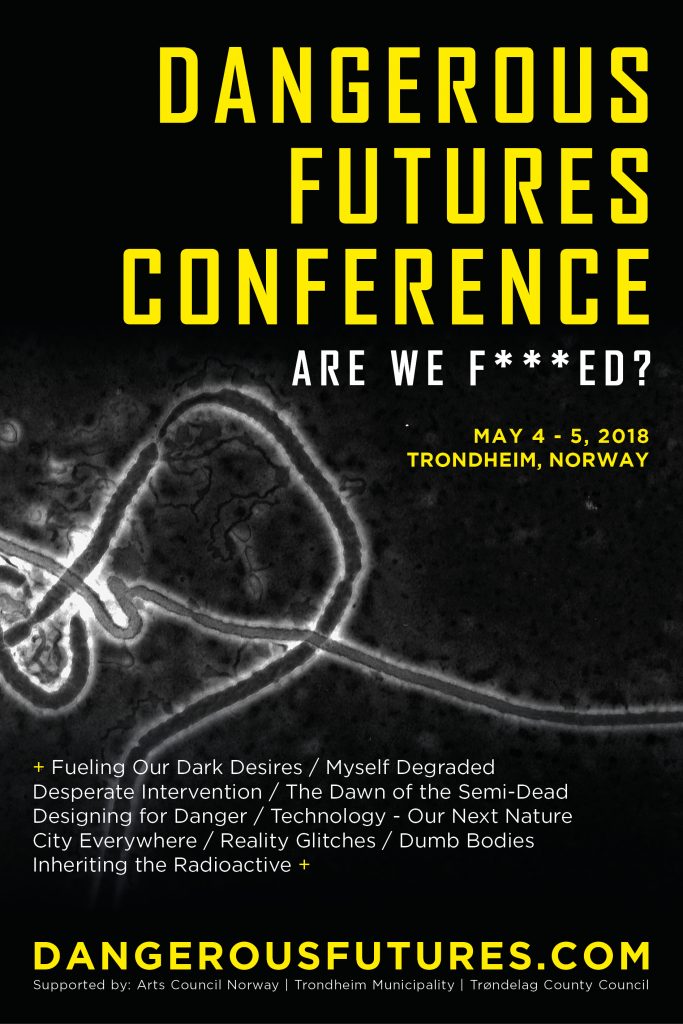 ARE WE F***ED? It depends. Art, science and technology continue to explore the very future extremes. How crazy, wild and different can we make it? The Dangerous Futures gathers a wide selection of experts to discuss the most radical and debatable ideas, asking provocative questions, presenting possible utopias and likely dystopias while drinking dangerous cocktails.
Why Dangerous Futures? The global warming debate and End of the World scenarios are abundant. But, hey, no need to worry. According to Timothy Morton the ecological catastrophe has already happened. What is beyond the ordinary blindfold of apocalyptic debates? Our future survival is at stake.
So, what now in the age of the post-catastrophe? How to move on? Should we dance at the end of the world? Or explore the dark and unforeseen possibilities on planet Earth in the age of the Anthropocene? Bruno Latour thinks that Mother Nature and the goddess Gaia has forsaken us. We humans are now the lone players in the game of survival. We have become the architects of our own world, lives and likely extinction. What next?
Can we genetically modify ourselves to make the right decisions? Should we merge our bodies together with algorithms – or rather with plants? How will we fuel our dark desires in the future? Science and technologies are providing new ways to upgrade ourselves and everything around us. And we just can't resist to say yes! What are the dangers of these decisions?
Dangerous Futures Conference is produced and financed by TEKS – Trondheim Electronic Arts Centre, Curated by Zane Cerpina.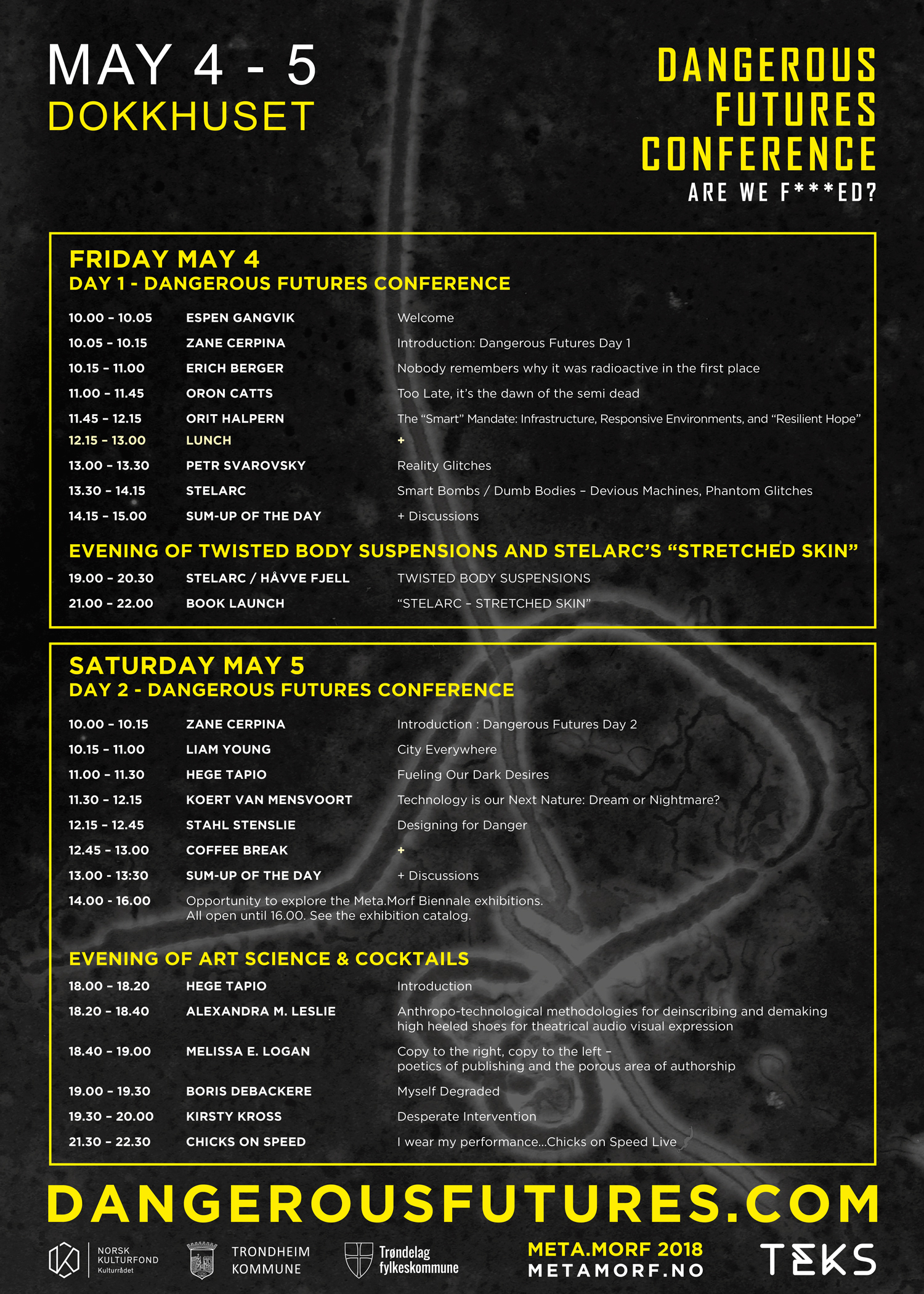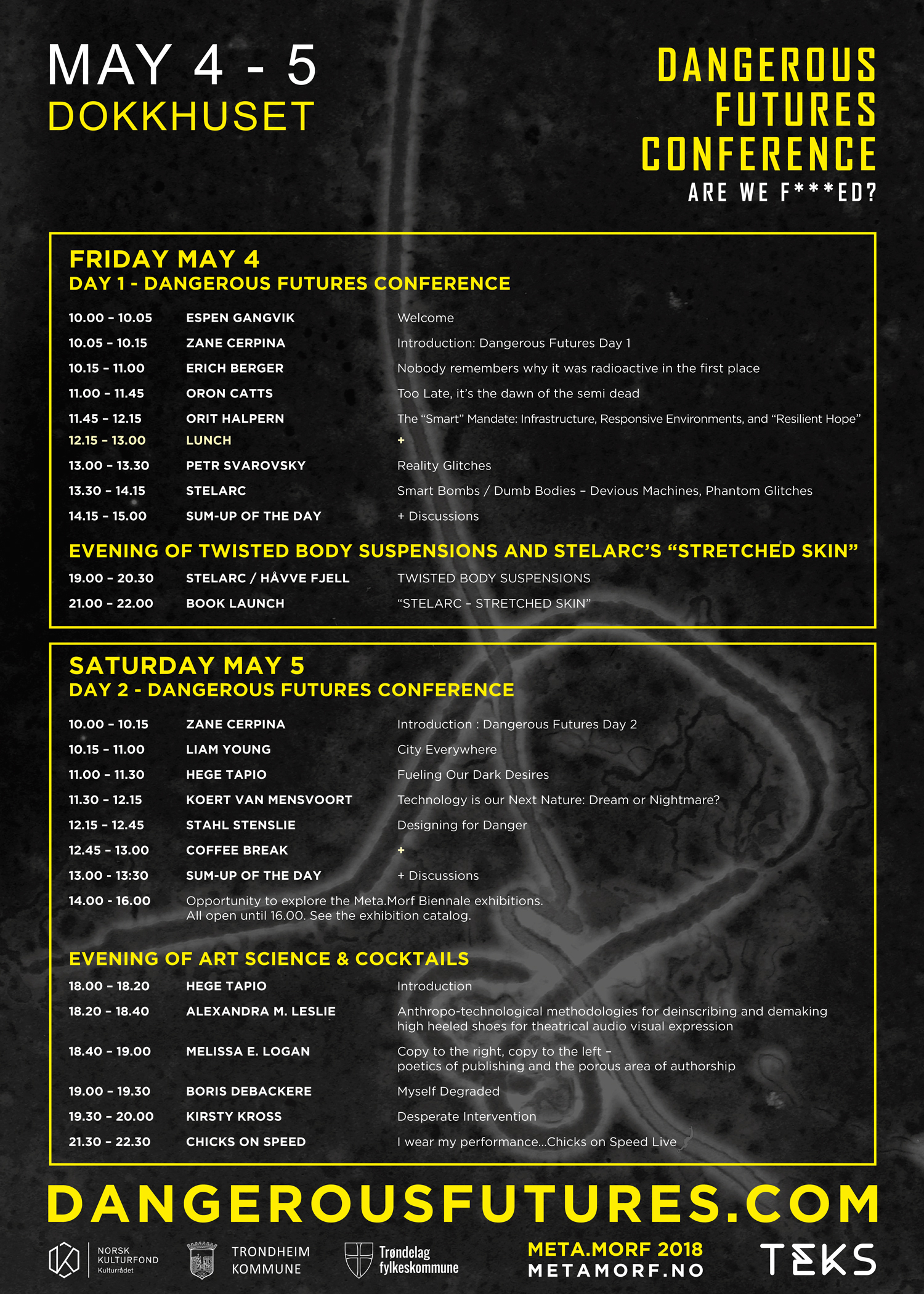 LOCATION
The Conference and the evening program will be held at: Dokkhuset, Dokkparken 4, 7042 Trondheim, Norway.
DANGEROUS FUTURES EVENTS / REGISTRATION INFO
Dangerous Futures // Conference – Meta.Morf 2018
FOR FREE / NO REGISTRATION REQUIRED
FB EVENT  / DFC WEBSITE
Twisted Body Suspensions // Dangerous Futures – Meta.Morf 2018
FOR FREE / NO REGISTRATION REQUIRED
FB EVENT  /  READ MORE
Stelarc – Stretched Skin // Meta.Morf 2018 – Book launch
FOR FREE / NO REGISTRATION REQUIRED
FB EVENT  / READ MORE
Art Science & Cocktails // Dangerous Futures – Meta.Morf 2018
FOR FREE / NO REGISTRATION REQUIRED
FB EVENT  / READ MORE
Chicks on Speed Live // Dangerous Futures – Meta.Morf 2018
Tickets NOK 200/100. TICKETS AVAILABLE HERE
FB EVENT  / READ MORE