Meta.Morf 2018 – A Beautiful Accident
"ALL BORDERS ARE TEMPORARY" – Cinemateket Trondheim  / April 3 – 4, 2018
Curator: Brynjar Bjerkem (NO) – TrAP – Transnational Arts Productions / Produced in collaboration with RAKE Visningsrom.  Tickets and times TBA. 
This project deals with having a dream, and the thresholds that needs to be crossed to see that dream achieved. The inter-galactic jazz musician Sun Ra writes "The alter happiness, is not the reality, But the alter happiness is the myth, From the realm of the myth comes, the impossible, And the potentials of the impossible". Our species is under pressure and needs new space to colonise. Lines of political conflict and the rivalry for nature resources make people into global refugees. Humanity has an enduring search for alternative spaces to possess, to get beyond an announced crisis of environmental collapse, lack of space and war. The dream for a better and alternative future must equally include us all, not to be governed and owned by the few, defined as either a national security issue or by the access to large capital. The potential to make real the impossible as Sun Ra writes, must belong to us all. The dream to conquer new land, the conquest not the least must be to everyone's share, nations as people. This programme presents four films all with the gaze set for outer space while at the same time rooted in social and political concerns here on land earth.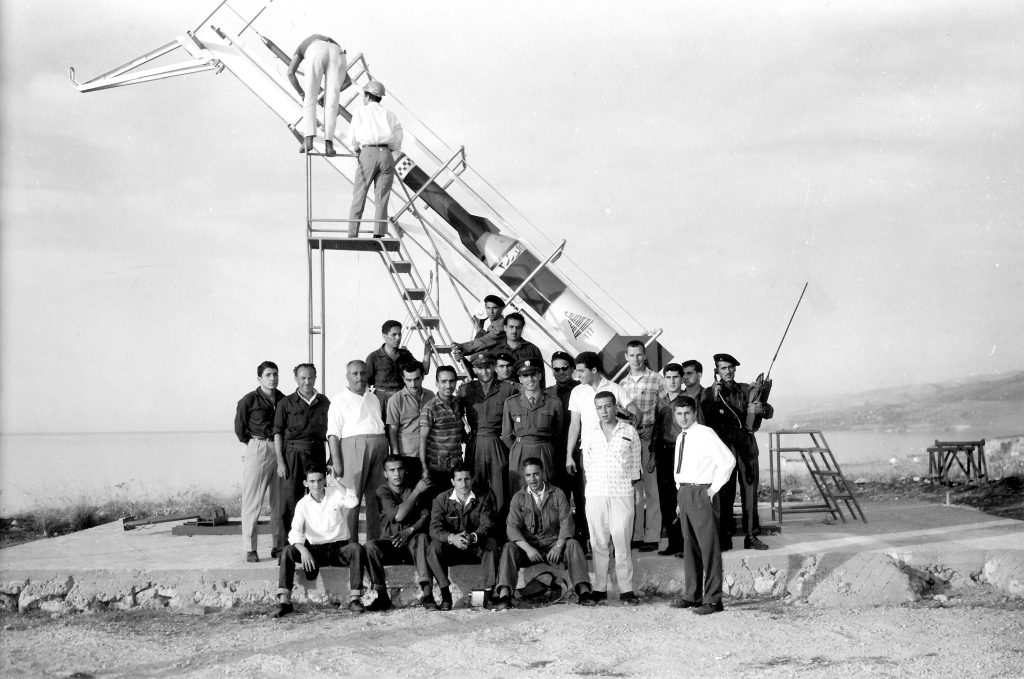 The Lebanese Rocket Society is made by the Lebanese filmmakers and visual artists Joana Hadjithomas and Khalil Joreige. It winds up the history of a rocket project developed by fire souls at a university in Beirut in the 60s, from its modest beginning, until the test flights become so successful this develops into a regional security political issue. Hadjithomas and Joreige has made a thorough historical research and found plenty of archive material, including film, and have made an engaging presentation of what is today a forgotten project, including the people behind. 
In The International Space Orchestra Dr. Nelly Ben Hayoun invades the NASA Ames Research Center and The Search for Extraterrestial Intelligence Institute (SETI) in California, to put together an orchestra of employees to perform her own "space opera" with parts written to the different moments during Apollo 11's 1969 travel to the moon; Ground Control: An opera in space. To make this piece of music she has recruited amongst many also people around XL Recordings in London and scriptwriters Bruce Sterling and Maywa Denki. Her Nelly Ben Hayoun (NBH) Studios claims to be the producers of the impossible, for you to become an astronaut in your living room while dark energy is being created in your kitchen sink and a volcano erupts on your couch. 
Patricio Guzmán's Nostalgia for the light takes us to the Chilean Atacama desert. There on 4000 meters above sea level lays one of the world's largest space observatories, opened in 1977. As an astronomer in the film states, the study of the stars is a question about tracing mankind's origin. Attention is led to Samuel R. Delany's book title Stars in my pocket like grains of sand, as in the landscape outside the observatory we find the traces of Augusto Pinochet's desert prison camp and cemetery Chacabuco of the same period. Today 40 years later, relatives still look for traces in the dry sand of people abducted by the military junta never again to be heard from. Guzmán connects the two themes in a poetic and emotive way, to a study into how human beings search for confirmation and knowledge about our past in the small grains of information encountered in stars and sand. 
Meteors by Gürcan Keltek retrieves its title from a meteor rain that fell over southeastern Turkey in 2016. This heaven sent nightly firework of light and thunder connects to contemporary everyday life in a region devastated by unrest and war. The meteors fall over Kurdish cities that first have been bombed by the Turkish military. Keltek connects this in a visual tonality with very few comments. First we see people hunting in the mountains, later weapons fired at the civil population, until the meteors start falling. The filmmaker says the film is about "memory and disappearance – of people, places and things", – something that also could be equally said to describe Guzmán's film.  Both films deal with mankind's destructive path, watching the skies for signs of a better future.
THE LEBANESE ROCKET SOCIETY
Directors: Joana Hadjithomas and Khalil Joreige
Land: Lebanon, France
Year: 2012
Duration: 93 min
Format: DCP, English subtitles
THE INTERNATIONAL SPACE ORCHESTRA
Director: Dr. Nelly Ben Hayoun
Land: USA, UK, Belgium
Year: 2013
Duration: 66 min.
Format: DCP, English spoken
NOSTALGIA FOR THE LIGHT
Original title: Nostalgia de la luz
Director: Patricio Guzmán
Land: Chile, France, Germany
Year: 2010
Duration: 90 min.
Format: DCP, Spanish spoken, English subtitles
METEORS
Original title: Meteorlar
Director: Gürcan Keltek
Land: Turkey, Holland
Year: 2017
Duration: 84 min.
Format: DCP, Turkish spoken, English subtitles
---
Transnational Arts Production (TrAP) is an independent production company and an impetus for increased diversity in the Norwegian field of culture. We work with artists that cross borders and bring an international perspective to the Norwegian art scene of visual arts, performing arts, music, film and text. The film programme is collected by TrAP's artistic programme manager Brynjar Bjerkem.