Meta.Morf 2018 – Dangerous Futures
STELARC (AU) HÅVVE FJELL (NO) – Dokkhuset / Friday May 4, 2018
WORLD PREMIERE BOOK LAUNCH:   "STELARC – STRETCHED SKIN"


FB EVENT LINK
Published by PS Media / Proudly co-funded by TEKS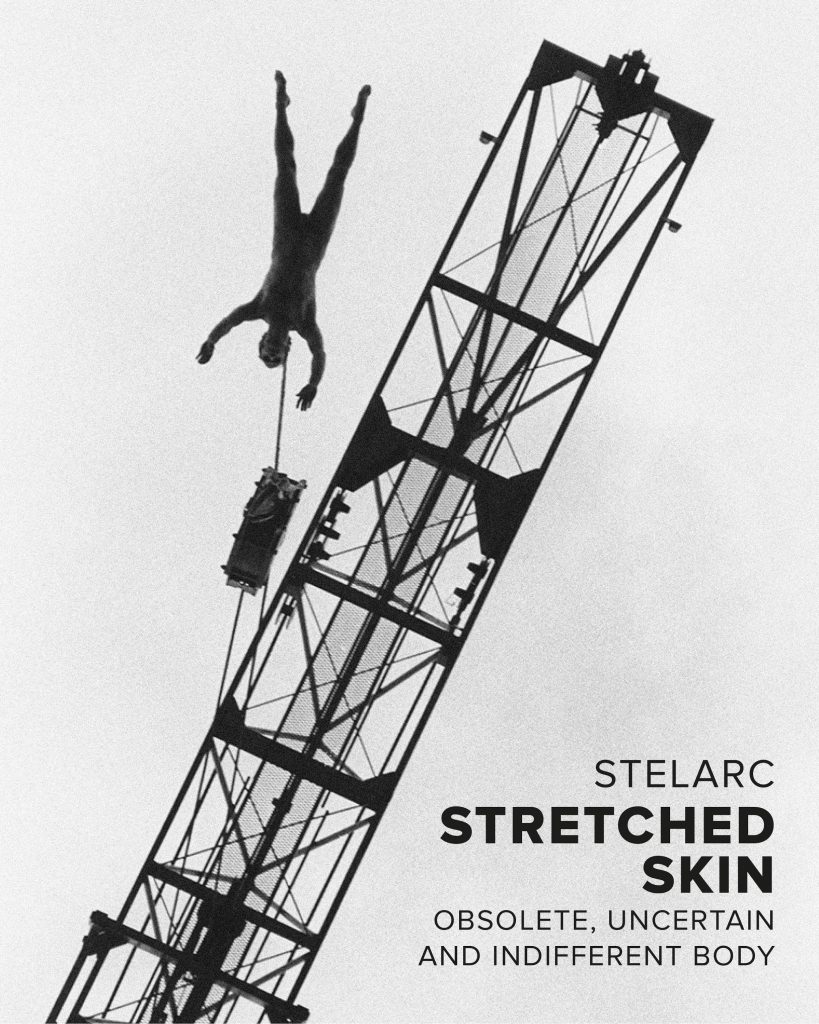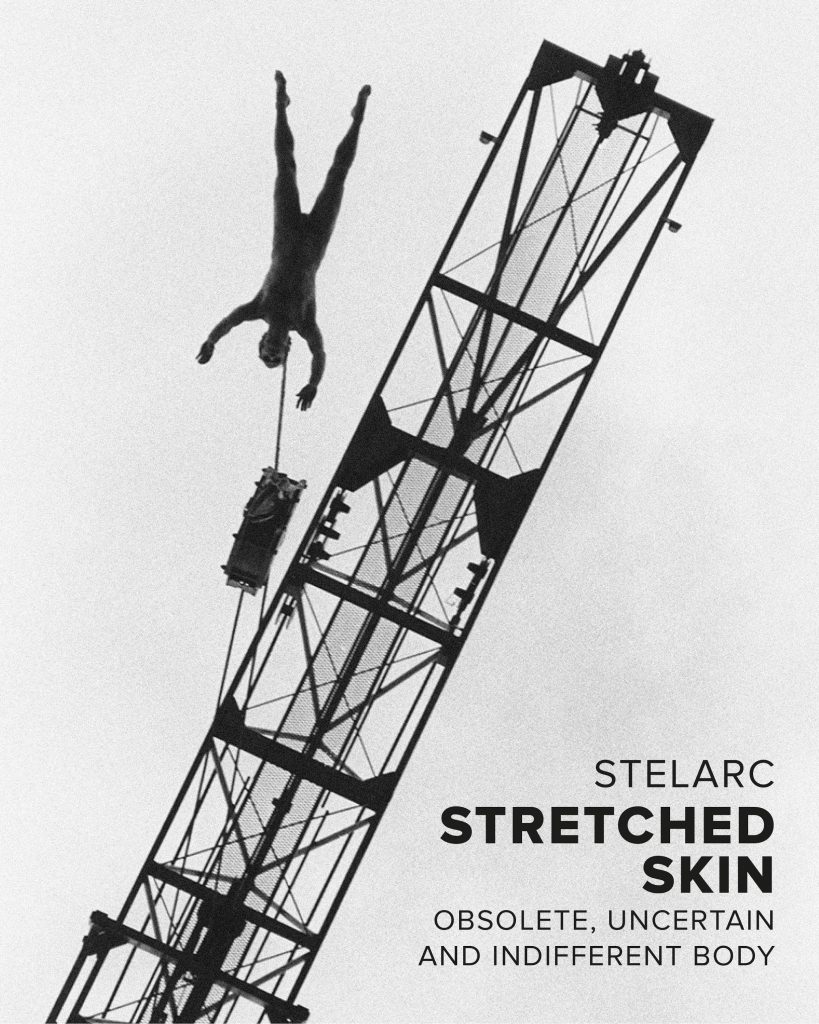 STRETCHED SKIN: OBSOLETE, UNCERTAIN AND INDIFFERENT BODY
For over 40 years, Stelarc has been pushing the physical, conceptual, and technological boundaries of the body. His work has inspired and awed people the world over, and given many a new perspective on what the body means, where it begins and, indeed, ends. His first book Obsolete Body was published in 1984 as a compilation of Stelarc's suspension performances, it is now a very rare and expensive book to come by. But Obsolete Body, while the source of many people's inspiration, does not tell the whole story or contain a complete record of Stelarc's suspension performances. After its publication, Stelarc continued and expanded his work, and those performances have never been seen in print.
When PS Media approached Stelarc to suggest that we could run a new edition of Obsolete Body, his immediate response was that it would be more interesting to publish a new book that contains a complete presentation of his suspension performances, as well as new articles and a different selection of images. We agreed immediately! It is with great pride and joy that we can now announce that PS Media will publish Stelarc's new book: Stretched Skin—Obsolete, Uncertain and Indifferent Body.
Stretched Skin will focus on Stelarc's suspension performances—from the very first in 1976 to the most recent in in 2012, including the collaborations with Håvve Fjell and Wings of Desire in 2012 and 2013. The book will also contain some of Stelarc's other performances; where they have direct relevance to, or lead up to, the suspension series.
Stretched Skin will be a work of art in itself. It is a book on art by an artist, with layout and design by our award winning team. PS Media takes great pride in publishing high quality books. Our choice of printer and materials is made with careful consideration to professional and ethical standards, so that our customers receive a high quality work that they will be proud to own and display in the years to come.
PS Media was established to publish documentation on the work of Pain Solution and Wings of Desire. As it has become an established part of the Pain Solution enterprise, ambitions have grown and we are broadening our scope to include future publications within the realm of Body Modification, Body Art, Sideshow, and Body Suspension. Our aim is to keep our focus on our own communities first and let our reach spread organically from there. As an independent and passionate publisher with little capital, we rely on support from our community to help us create works that we and our readers want to own.
Håvve Fjell is the founder of PS Media and Pain Solution, the renowned performance troupe in which he has been the driving force, performing all over the world, for 25 years. Håvve is a pioneer in the European Suspension community and has contributed to the education of body suspension practitioners on five continents.
Stelarc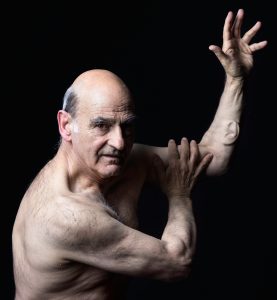 Stelarc explores alternate anatomical architectures, interrogating issues of agency, identity and the posthuman. He has performed with a Third Hand, a Stomach Sculpture and Exoskeleton, a 6-legged walking robot. Fractal Flesh, Ping Body and Parasite are internet performances that explore remote and involuntary choreography. He is surgically constructing and stem-cell growing an ear on his arm that will be internet enabled. In 1996 he was made an Honorary Professor of Art and Robotics at Carnegie Mellon University, Pittsburgh and in 2002 was awarded an Honorary Doctorate of Laws by Monash University, Melbourne. In 2010 was awarded the Ars Electronica Hybrid Arts Prize. In 2015 he received the inaugural Australia Council's Emerging and Experimental Arts Award. In 2016 he was awarded an Honorary Doctorate from the Ionian University, Corfu. Stelarc is currently a Distinguished Research Fellow, School of Design and Art, Curtin University. His artwork is represented by Scott Livesey Galleries, Melbourne.
Photography by PIERO VITI Copyright LABOTIV 2014-2017
http://stelarc.org
Håvve Fjell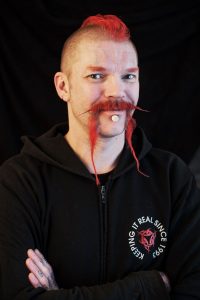 Håvve did his first public Fakir performance in 1991. In 1993 he formed Pain Solution, the company has gone trough various stages and the Sideshow troupe have seen different members over the years. Pain Solution has performed in more than 25 countries all over the world and keeps going strong.
In 2002 Håvve founded Wings of Desire, dedicated to the practice of Body Suspension. Through WoD he has trained a local crew, as well as travelled to conventions and gatherings on several continents to teach and work alongside practitioners from around the world. WoD have hosted the annual Oslo SusCon since 2002.
In order to educate the next generation of Norwegian Fakirs and recruit performers for Pain Solution Håvve ran The Fakir Academy as a three-year education program for a small group of selected students. The Fakir Academy also had a therapeutic function in collaboration with professionals in the psychiatry to deal with the student's mental health and self harm issues.
Håvve's first book, in collaboration with his sister/photographer Helene Fjell, 'Ten Years of Pain', was published by Hertervig Forlag (2003). Their following publications, 'Learning to Fly' (2012) and 'To Bleed or Not To Bleed' (2015) are both released by PS Media, Pain Solution's own publishing house. PS Media is currently working on 'Stretched Skin' by Stelarc, to be released in May 2018.