Meta.Morf 2018 – A Beautiful Accident
BASTIAAN BUIJS (NL) / MARTA GIRALT (CATALAN) – National Museum of Decorative Arts and Design / April 5 – May 6 /
Curator: Åshild Adsen
WHAT IF
(Installations)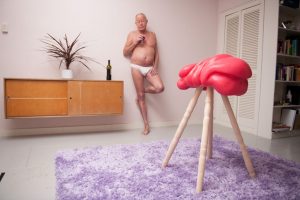 What happens to our sexuality when we are surrounded by digital offers and robotics? The porn industry was quick to embrace the new digital technology, taking full use of its possibilities. With VR and social networks, our interaction has shifted from intimate to digital.
In «What if / Hva om» at the Nordenfjeldske Kunstindustrimuseum, we present Bastiaan Buijs's design project "Satyr" and Marta Giralt's
"Virtual X". 
Virtual X investigates the future of extreme sexual experiences in virtual reality. Early research in VR has proven that there is a link between virtual experiences and behaviours in the physical world. This project questions whether extreme pornographic experiences, such as simulated rape, could become a mechanism to elude the moral and legal constraints of the real world. 
By designing the three objects that would enable such an experience, Virtual X exposes a near future to raise debate around the direction the pornography industry travelling is within the context of virtual reality and whether or not these extreme experiences could, and should, be regulated.
The dutch designer Bastiaan Buijs has designed a sex toy with a bright pink torso that can be mounted like a vaulting horse. The designer wanted to combat the image of "a sad lonely man with a blow-up doll", by creating an object that users would be happy to openly display in their homes.
In Marta Giralt's "Virtual X" the aesthetics from game consols meets the visual language of the SM culture resulting in a group of objects that one can find either disturbing or pleasing and alluring. 
"What if" invites you to debate the future of sexual encounters. Online dating has in a mere decade gone from being seen as a last resort for long time singles to being a part of our everyday life. App's like Tinder and Grindr creates a pool of possibilities. The two presented designers have designed two distinctively different projects, the analogue Satyr or the digital Virtual X, both inviting you the question What if?
Photos: "Virtual X": Marta Giralt, Tom Mannion / "Satyr": Courtesy of Studio Cremaster.
Bastiaan Buijs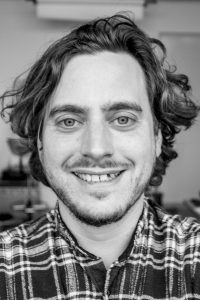 In 2015 I graduated (cum laude) from the Eindhoven Design Academy. During my years of study my interest more and more focussed on themes and subjects seen as taboo. Sex, fetishism, unknown hidden subcultures and finally sextoys. Taboos and the shadowsides of our society,in people, have always fascinated me. Why make such a fuzz about these subjects? My artist mother's muse is the vagina and I grew up between her creations and paintings which will surely have inspired me. Through my designs I hope to make people understand the normality and beauty of subjects generally considered taboo. My creations merge on the edge of design and art, which also is a theme that keeps on calling for discussion and makes my mission so interesting it will never be boring. The comments on my works, from people or in the media are sometimes extreme and strikingly shameless, in fact this is what my designs call for, it fascinates me, our would be tolerant society appears to be very prudish. Also it is great fun to see the startled responses of surprise when people visit my expositions. Beauty is a must in my work,it is meant to open minds and I hope it is appreciated out of a dark and dirty context. It is supposed to be beautiful, nice, exciting, lust arousing and enjoyable….. Don't I make everybody happy this way?
Marta Giralt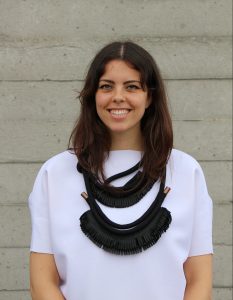 Marta Giralt is a design researcher and explorer of the future.
Having recently graduated from MA Material Futures, her work explores the cultural, ethical and moral impact of new and emerging technologies and the potential implications that they may have on our future society.She believes that it is only by critically engaging and navigating such technologies and their impacts that we can really even begin to design and imagine a fairer, more ethical and ultimately more democratic and sustainable future. By crossing disciplines and creating provocative and often disturbing scenarios, her goal is to inform, question and ultimately debate current infrastructures, systems or organizations that would otherwise go unchallenged.
Currently working as a Graduate Teaching Assistant for MA Material Futures at Central Saint Martins in London, she has built an interest in using design as a platform to shape our world through the crossing of disciplines in science, technology and craft.