Meta.Morf 2018 – Dangerous Futures
Orit Halpern (US) @Dokkhuset, Friday May 4 & Saturday May 5, 2018
See full program here.
Reality Glitches
Every app has some bugs and it's even cool among kids to discover glitches in video games. Invisible characters, strange color artefacts or mysteriously increased score, it's all amusing and funny. But what happens when apps that drive people to the physical action have errors? Or if even users show unexpected behaviour? Petr Svarovsky will talk about how he uses code to control audience behaviour. And how it sometimes goes wrong.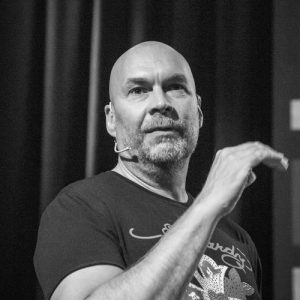 Petr Svarovsky (CH/NO) lives and works in Oslo, Norway. He focuses on relation between art, technology and consciousness. Petr Svarovsky started his art career in the mid 90's, when he co-founded 'Silver,' a collaborative platform for new media art production. He has worked within the field of interactive sound installations, advanced virtual reality, investigated the Internet as an art medium and utilized mobile phones for art. In 2012 he founded Carrot Pop, a company known mostly for controversial apps. He stopped calling his production art and he developed a number of apps, driving their users into an unusual physical experiences.