Meta.Morf 2018 – Dangerous Futures
STELARC (AU) HÅVVE FJELL (NO) – Dokkhuset / Friday May 4, 2018
TWISTED BODY SUSPENSIONS


FB EVENT LINK
As part of the Meta.Morf Biennale 2018, Stelarc and Håvve Fjell are producing a new multiple body suspension performance to be presented during the Dangerous Futures Conference program in May 4, 2018. The performance will be site-specific, produced for the Dokkhuset in Trondheim.
The performance is developed based on Stelarc's idea and composition of Bodies suspended in relation to each other with Håvve mapping out the concept and realizing the idea. The performance is augmented by amplified sound created by the suspended Bodies and the mechanics in use.
Stelarc and Håvve Fjell have previously done three collaborations together, Oslo 2012, Dallas 2013 and Berlin 2017. Each performance is unique and site specific, parting from the possibilities and limitations of the space.
Stelarc & Wings of Desire
---
WORLD PREMIERE BOOK LAUNCH: "STELARC – STRETCHED SKIN"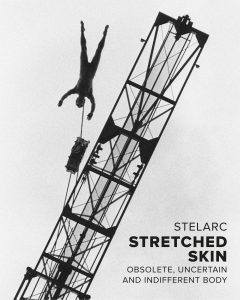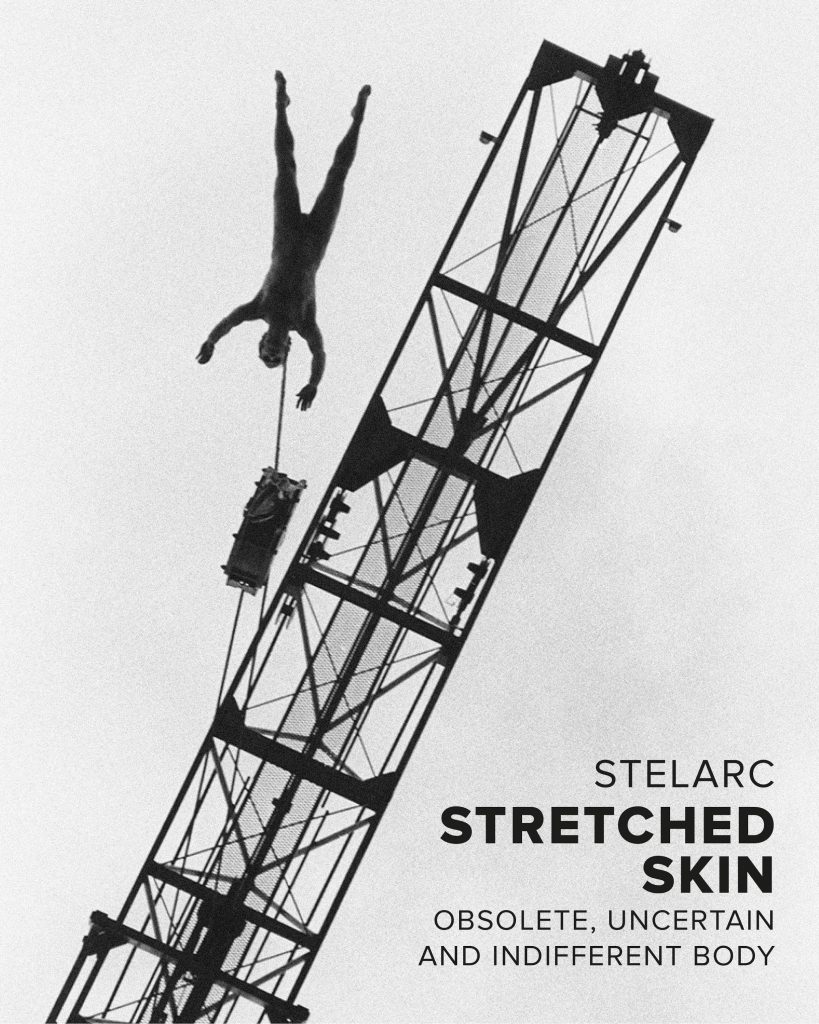 STRETCHED SKIN: OBSOLETE, UNCERTAIN AND INDIFFERENT BODY
Stretched Skin will focus on Stelarc's suspension performances—from the very first in 1976 to the most recent in in 2012, including the collaborations with Håvve Fjell and Wings of Desire in 2012 and 2013. The book will also contain some of Stelarc's other performances; where they have direct relevance to, or lead up to, the suspension series.
See HERE for full info!
Published by PS Media / Proudly co-funded by TEKS
---
Stelarc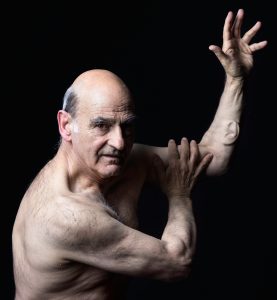 Stelarc explores alternate anatomical architectures, interrogating issues of agency, identity and the posthuman. He has performed with a Third Hand, a Stomach Sculpture and Exoskeleton, a 6-legged walking robot. Fractal Flesh, Ping Body and Parasite are internet performances that explore remote and involuntary choreography. He is surgically constructing and stem-cell growing an ear on his arm that will be internet enabled. In 1996 he was made an Honorary Professor of Art and Robotics at Carnegie Mellon University, Pittsburgh and in 2002 was awarded an Honorary Doctorate of Laws by Monash University, Melbourne. In 2010 was awarded the Ars Electronica Hybrid Arts Prize. In 2015 he received the inaugural Australia Council's Emerging and Experimental Arts Award. In 2016 he was awarded an Honorary Doctorate from the Ionian University, Corfu. Stelarc is currently a Distinguished Research Fellow, School of Design and Art, Curtin University. His artwork is represented by Scott Livesey Galleries, Melbourne.
Photography by PIERO VITI Copyright LABOTIV 2014-2017
http://stelarc.org
Håvve Fjell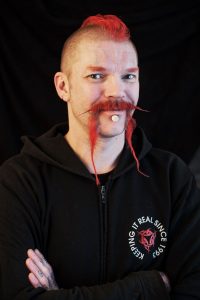 Håvve did his first public Fakir performance in 1991. In 1993 he formed Pain Solution, the company has gone trough various stages and the Sideshow troupe have seen different members over the years. Pain Solution has performed in more than 25 countries all over the world and keeps going strong.
In 2002 Håvve founded Wings of Desire, dedicated to the practice of Body Suspension. Through WoD he has trained a local crew, as well as travelled to conventions and gatherings on several continents to teach and work alongside practitioners from around the world. WoD have hosted the annual Oslo SusCon since 2002.
In order to educate the next generation of Norwegian Fakirs and recruit performers for Pain Solution Håvve ran The Fakir Academy as a three-year education program for a small group of selected students. The Fakir Academy also had a therapeutic function in collaboration with professionals in the psychiatry to deal with the student's mental health and self harm issues.
Håvve's first book, in collaboration with his sister/photographer Helene Fjell, 'Ten Years of Pain', was published by Hertervig Forlag (2003). Their following publications, 'Learning to Fly' (2012) and 'To Bleed or Not To Bleed' (2015) are both released by PS Media, Pain Solution's own publishing house. PS Media is currently working on 'Stretched Skin' by Stelarc, to be released in May 2018.