SOLO EXHIBITION @ TEKS.studio / September 26 – October 25, 2020
Curator: Espen Gangvik
EIRIK HAVNES [no]
THE AGREEMENT
The Agreement is an installation based on feedback through eight circular saw blades using contact microphones and tactile transducers. Each saw blade generates a feedback loop which produces a set of frequencies that resonates in the blade itself. When the different saw blades are fed into each other, creating new and bigger feedback loops, new tones appear, and the only frequencies that will be heard are those that the included blades have in common. In this way, the installation will always create new tones and frequencies, all depending on which saw blades that are connected to each other.
Exhibited at Trøndelag Senter for Samtidskunst (2014) and Bomuldsfabriken Kunsthall (2015).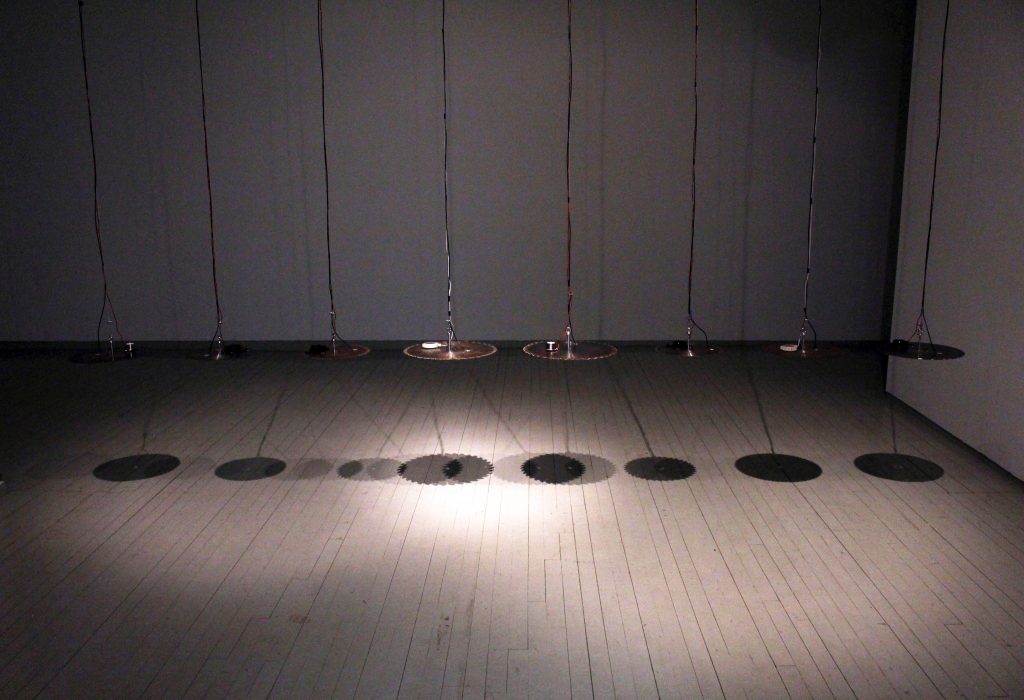 Eirik Havnes (b.1989)
Eirik Havnes is an artist, composer, musician and poet from Ålesund, with a background from Music Technology at NTNU in Trondheim.
He focuses on producing sound on the fringe of genres and technical barriers, with a playful approach to conceptuality and perception.
Feedback has been in the centre of his works for a long time, both as a concept and as a sound source; incorporating both into his installations and musical works. The same can be said about his use of sonification; the art of translating data or concepts into sound, to give the audience a different and auditive perspective on the subject in matter. Havnes have exhibited in arenas such as Trøndelag Senter for Samtidskunst, Bomuldsfabriken, Heimdal Kunstforening, Høstscena, Lydgalleriet, Meta.Morf (2014) and have released a number of records. Most recently, he has been the subject of the documentary Polyfonatura (2019), where director Jon Vatne has been following Havnes over the course of 4 years, while he is composing a cinematic score solely based on field recordings.
Photos by courtesy of the artist.