Michelle Teran (CA)
Curator and project manager of TEMPORARY LABORATORY @ KIT – Meta.Morf 2018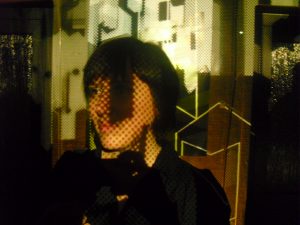 Michelle Teran is a researcher, artist, activist, and educator. She is Associate Professor at the Trondheim Academy of Fine Art at the Norwegian University of Science and Technology. She completed her doctoral studies at the Bergen Academy of Art and Design (KHIB) where she carried out her research within the Norwegian Artistic Research Fellowship Programme.
Within her artistic practice, she critically engages media, connectivity and perception in the city, utilizing the language of surveillance, cartography and social networks. She incorporates strategies of translation and contemporary archiving practices within social media. Her multidisciplinary works span film, text, performance, installation, online works, participatory events and interventions in public space.
She is the winner of several awards, including the Transmediale Award, the Turku2011 Digital Media & Art Grand Prix Award, Prix Ars Electronica honorary mention (2005, 2010), and the Vida 8.0 Art & Artificial Life International Competition. Her work was featured in several notable publications, "An Aesthesia of Networks: Conjunctive Experience in Art and Technology" and "Walking and Mapping: Artists as Cartographers," both put out by MIT Press, "Art + Science Now," by Thames & Hudson and "Why When Where and How?" by AVEdition. Born in Canada, she lives and works between Trondheim and Berlin.