Meta.Morf 2018 – A Beautiful Accident
THE TEMPORARY LABORATORY
"When Everybody is a Librarian, The Library is Everywhere" 
Gallery KIT – Trondheim Academy of Fine Art, NTNU / March 16 – 25, 2018 /
Main curator and course responsible: Associate professor Michelle Teran 
Temporary Laboratory
Workshop / Installation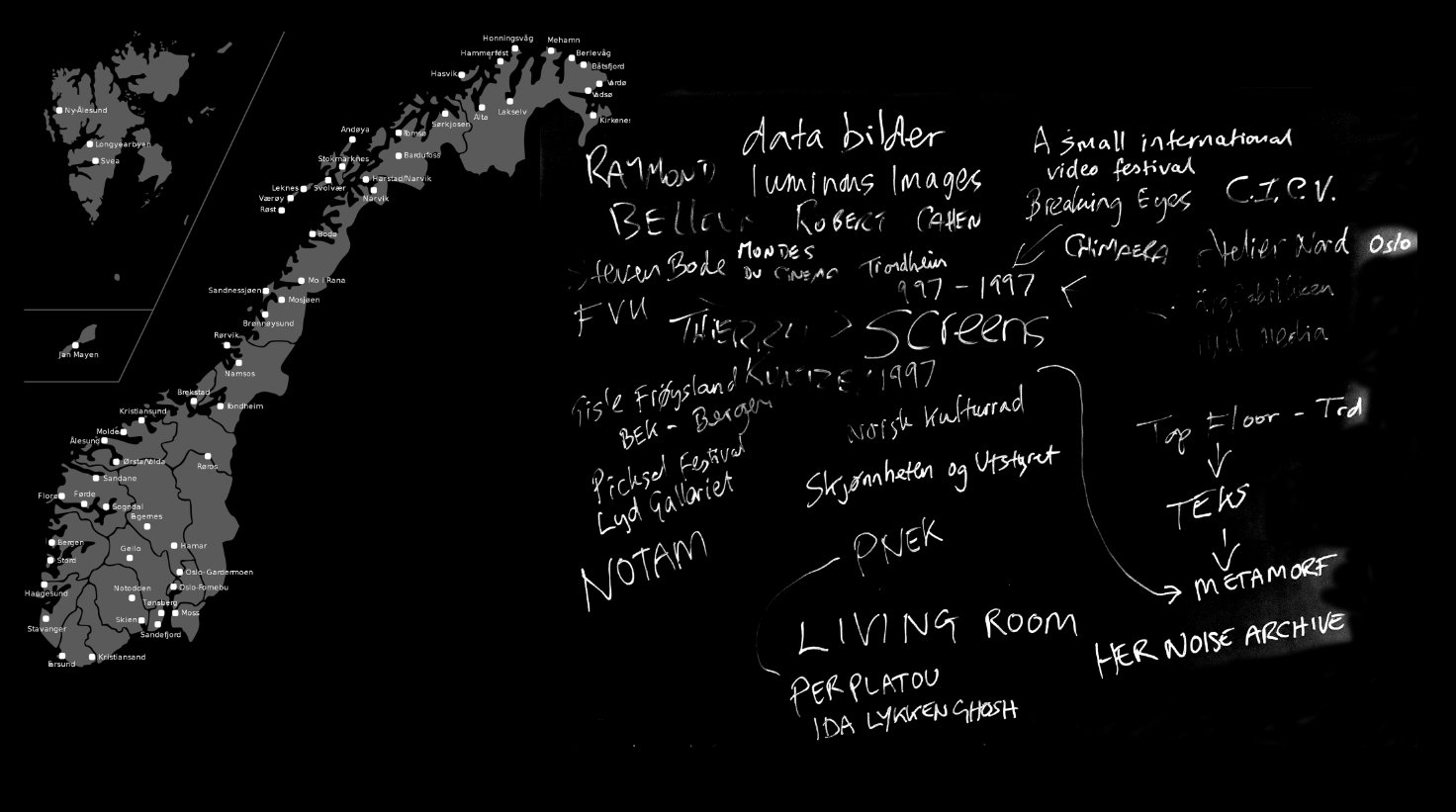 Map by Jeremy Welsh, 2017
Starting in September 2017, Associate professor at Trondheim Academy of Fine Art (KiT) – Michelle Teran – is leading a course called "When Everybody is a Librarian, The Library is Everywhere", where ten master students from KiT and other departments within NTNU participates.
During the course, the participants are using the Meta.Morf 2018 project – The Temporary Library of Norwegian Media Art (initiated by Alessandro Ludovico at Neural magazine) – as a Temporary Laboratory to examine the library in relation to notions of cultural memory; the library as a curatorial space for generating connections within collections around a particular specialized knowledge.
A library brings together aggregations of printed matter, while also creating a social environment for sharing content together. The library/laboratory allowed us to introduce many lines of critical inquiry regarding the role of printed matter and its historical mapping of ephemeral artistic and cultural practices related to sound, performance, video, networks, etc.: When does a history start? What should be the process of curation for the collection? What are the criteria for inclusion and exclusion? Can self-published 'zine makers co-exist with more official titles written by academics? How do we also make explicit the gaps in the collection? Why use printed matter to document ephemeral practices? Is the library just books? What interest should a public have about such a collection?
We are proud to present the results of the research. The Temporary Library of Norwegian Media Art will be on public display at Gallery KiT during the first part of the Meta.Morf Biennale 2018. Accompanying the Temporary Library of the Norwegian Media Art collection, we offer an exhibition of audiovisual works, objects, and additional printed material. Understanding incompleteness as a prevalent feature in the constructing of history, the presentation centers on Trondheim as a locality and timeline in order to bring out specific events, individuals, and practices connected to the history of digital art and culture in Norway. Additionally, invited curators acting as tour guides will activate sections of the Temporary Library during the exhibition, offering their subjective interpretations of Norwegian Media Art.
The exhibition will coincide with a self-publishing workshop led by Alessandro Ludovico, book fair, lecture and performance program developed by the students within the first year of the master program at Trondheim Academy of Fine Art.
Temporary Laboratory exhibition and activities are curated by Michelle Teran, Anaclara Talento Acosta, Letizia Balzi, Katherine Butcher, Mika Haykowsky, Álvaro Hortal Muñoz, Lisa Paland, Martin Grøndalen Palmer, Kasper Holm Pedersen and Pablo Sarabia Fraile.
The Temporary Library of Norwegian Media Art is an initiative by artist, writer, and publisher Alessandro Ludovico, in collaboration with TEKS – Trondheim Electronic Arts Centre – and artist Stahl Stenslie. The project brings together publications within the areas of Art & Technology, and Art & Science produced by individuals, events, and institutions that have been active contributors in the Norwegian media art scene.