Trygve Ohren & Charlotte Rostad
Curators of AQUAPHOBIA – Meta.Morf 2018. Founders of RAKE Visningsrom.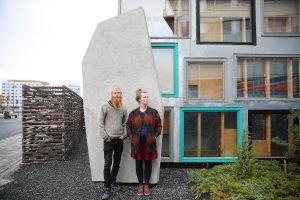 Trygve Ohren (b. 1983, Gjemnes) and Charlotte Rostad (b.1984, Kabelvåg) lives and works in Trondheim, Norway. Ohren holds a Master in Architecture from NTNU, Trondheim, and is one third of the architecture firm Nøysom Arkitekter. Ohren/Nøysom Arkitekter's main project has for the last few years been a self build housing project located at Svartlamon, Trondheim. The project has been published and exhibited broadly, and is due to finish in September 2017. Ohren also practice as an artist, and is a member of the Association of Norwegian Visual Artists.
Charlotte Rostad holds an MFA from Trondheim Academy of Fine Art (2011).  In her own practice Rostad mainly work with drawing. Large drawings, often with human characters half lost, half hopeful rooted in their surroundings. In the work there is present a sense of wonder, or even surprise, about actually existing.
Selected exhibitions by Rostad include:
2018: Kongsberg kunstforening, 2017: «Kunstnerens valg, Jamie Parslow», Trondheim Kunstmuseum Gråmølna, 2016: Fosenstipendet 2016, Ørland Bjugn Kunstforening, Bærum Kunsthall 2015: Nils Aas Kunstverksted, Inderøy 2014 38. Trøndelagsutstillingen, Trondheim, Tegneforbundet/The Drawing Association, Oslo, 2013: 37. Trøndelagsutstillingen, Trondheim 2012: Høstutstillingen 2012, Oslo
Beside running the exhibition space and working within their own practice Ohren and Rostad also do collaborative work as a duo.
Selected projects as Ohren & Rostad include:
2018 Public art commission at Ole Vig High School, Stjørdal, (finish January 2018)  2017: Cosmoscow, art fair Moscow, Russia, 2015: Like Pinning Jelly to the Wall at Trondheim Kunstmuseum, 2014: Deep Sites, LevArt, Levanger, Kva No? / Now What?, Telemark, 2013: Constant. Decay, Trondheim, 2012: Collaborative Curating of a Bookshelf in a Car, ROMLAB 1 – 5, Across Europe
---
RAKE visningsrom
RAKE visningsrom is a non-commercial, artist-run gallery focusing on contemporary art and architecture. The building is designed and constructed by re-using materials from an office building ready for demolition. The space is semi-mobile and is currently at it's third location at Brattørkaia, Trondheim, Norway.
RAKE was established in 2011 by Trygve Ohren and Charlotte Rostad, who has been running it since.
Selected exhibitions at RAKE visningsrom include:
2017: Gabriel Johann Kvendseth (NO), Marianne Hurum & Marte Eknæs (NO), Ellen Sofie Griegel (NO), Geir Tore Holm (NO) 2016: HC Gilje (NO), Örn Alexander Ámundason (IS), Malin Bülow (SE), Jeronimo Hagerman (ES), Jorunn Hancke Øgstad (NO), QWERTY artist group (DK), Kaia Hugin (NO), Janne Kruse (DK), Stefan Schröder (DE/NO) 2015: SANDEN + HODNEKVAM // TUA- arkitekter (NO) 2014: Lotte Konow Lund (NO), Michael Johansson (SE), Jordi Colomer (ES), MOLAF (CA/NO) 2013: Per Kristian Nygård (NO), Yoshihito Mizuuchi (JP), Øyvind Aspen (NO), David Grandorge (UK), Karianne Stensland (NO) 2012: Björn Hegardt and Theo Ågren (NO/SE), Meta.Morf 2012: Peter Flemming(CA), Jai Tanju(US), Haugen/Zohar Arkitekter(NO/IL) 2011: TYIN tegnestue(NO), Kamilla Skrinde(NO), Anne-Karin Furunes and Fredrik Lund(NO)