Brynjar Bjerkem (NO)
Curator of "All Borders Are Temporary" –  film programme – Meta.Morf 2018
Artistic programme manager of Transnational Arts Production (TrAP)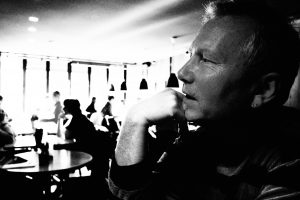 Brynjar Bjerkem is based in Oslo as the artistic programme manager with TrAP. He is a social anthropologist with an engagement to the international aspects of contemporary art and critical debate. With his work with TrAP he has nurtured a multi-disciplinary profile, working with artists and curators in sectors of music, text, film, performing and visual arts.
As producer and curator Bjerkem has over the last 20 years worked in numerous contexts in the Norwegian art scene, most recently as co-curator for the touring exhibition Mother Tongue, a programme for AMIFF 2017 in Harstad and film programmes in the cities Tromsø, Trondheim and Oslo and with the Norwegian Short Film Festival in Grimstad. He is one the founders of the Oslo Films From the South festival of which he also held postion as managing programme director for three years.
Transnational Arts Production (TrAP) is an independent arts production company with aim to increase diversity within Norwegian arts and culture. TrAP works with artists and projects that cross borders and brings international contemporary art to the Norwegian art scene.
http://www.trap.no/en/projects
photo: Apichatpong Weerasethakul