Angelica D. Schmitt (DE)
Co-curator of the exhibition A Beautiful Accident – Meta.Morf 2018.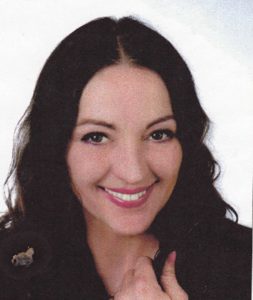 Angelica D. Schmitt (DE) is a philosopher and media theorist focusing on the autonomy of technology within the relationship between man and machine.
She studied Art History, Audio Visual Media and Philosophy. Beside her artistic work, she is a theorist, researcher and author on contemporary media art practices focussed on the impact of digitalization. In the early nineties she started her theoretical research by questioning if interactivity can be understood as an aesthetical quality that is addressing the adaptation of traditional arts and theory to digital conditions. In the meantime she has expanded this conceptual approach to several fields especially epistemology, cultural sciences and makro-economy.
Angelica D. Schmitt has been collaborating with Two Suns Media Development in Berlin for whom she authored the development of processing software for intelligent environments. She participated in several media art projects, conferences and festivals in Europe and China. Currently she is working on her interactive Art-Project GO, a multi-user-environment, where she is transfering the notion of "Interface" into the epistemological field. In this project she undertakes an extrapolation of western thinking with regard to technological developments and global conditions. She translates the relationship between traditional concepts of perception and a mediated reality into the form of a critical stocktaking research.
With V2_ publishing, she has written Do You Understand Chinese Media-art? on art projects by Yang Zhenzhong, Zhang Peili, Zhou Hongxiang and Hu Jie Ming in 2007s Interact or Die!. She is working with V2_ on a project base. With Alex Adriaansens she has worked on several media Art festivals in Beijing. She published several  texts and lectrures concerning globilization and the notion of  Art and culture in this context. U.a there are The Work of Art in the  Age of its Globalization", Katalog code: blue, Millenium Dialloghue, Beijung, 2006 ;  Harmony in the cacophony of globalization – or reflections about the need of copyrighting western cultural history, calalogue  CY NET art,  Dresden, 2008. With Meta.Morf she co-curated the conference New.Brave.World! in 2010.