MANUAL MODE
Kristin Sæterdal (NO)
Trondhjem's Art Association, March March 31  – May 8, 2016
http://www.kristinsaeterdal.com
Tapestries (wool, linen).
Science Friction
Article by Franz van der Ploeg
News bulletin April 2013: By the end of this decade NASA plans to capture an asteroid and use an unmanned probe to pull it closer to Earth in order to study its behaviour and composition. The information will be useful in the event of similar bodies on collision course as well as space flights to Mars. Science Fiction? Not if NASA has anything to do with it. Weaver of fantasies Kristin Sæterdal has her own ideas about the impact this will have: Kabooom!
Slow graffiti
The world as a closed ecosystem: where technology reigns. The artificiality of ultimate control is what concerns Kristin Sæterdal (1963, Trondheim, Norway) the most. Her control room made up of numerous tints of red, The Red Capsule (2011), is stripped of any trace elements remotely reminiscent of nature (anything natural). Even man – who normally controls the button – is out of the picture. Forever? The Pixar animation film Wall·E (2008) demonstrates what can happen should man make the world uninhabitable. A vestige of the human race drifts aimlessly around the universe in an autarkic space station where the onboard computer is the boss. And, would you believe, thanks to a small (waste-collecting) robot, rebellion against technology and a return to Earth become possible.
Kristin Sæterdal
Kristin Sæterdal was born in 1963 in Trondheim, and qualified from the Oslo School of Architecture and Design in 1989. She has studied at the Bergen National Academy of the Arts and Completed two years of Tapestry at the Oslo University College.
Her career as a textile artist started in 2004 when she was selected to take part in Norway's Annual Autumn Exhibition. She has had seven solo exhibitions, and has participated in many juryed group shows around the globe. In 2015 she was nominated to The Cordis prize for Tapestry in Scotland. Kristin Sæterdal has had a number of commissions for public art, and her work is in the collection of the Nordenfjeldske Art and craft Museum. Sæterdal living and working in Oslo.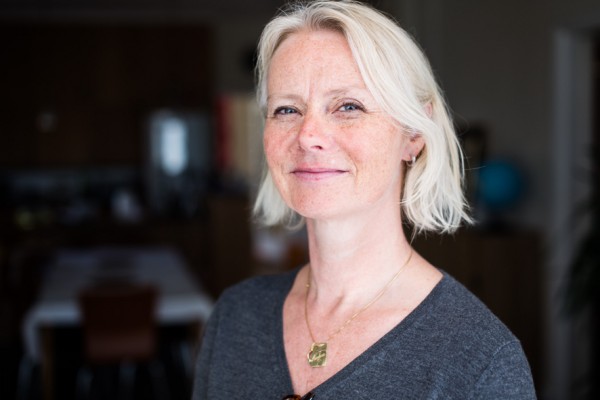 Trondhjem's Art Association
Trondhjem's Art Association – Trondhjem's kunstforening – is a volunteer based organization with approximately 500 members. The association was founded in 1845 and is one of Norway's oldest cultural institutions.
We have the ambition of being a necessary and courageous viewing spot, offering varied exhibitions and high-quality projects within Norwegian contemporary art. Exhibitions are spread over two floors, and during 2016 we will among others carry out 13 solo- and group exhibitions disseminating different art forms and genres.
On the 1st  floor you'll find the main gallery and administration, and at the ground floor primarily wall based art is presented. Here you can also visit Café Ni Muser. Trondhjem's Art Association dwells in the old bishop's residence in Bispegata 9A close to Nidaros Cathedral. Our nearest neighbor is Trondheim Art Museum.