Meta.Morf 2018 – A Beautiful Accident
FREDERIK DE WILDE (BE) – Trondheim Art museum – Gråmølna, March 8 – May 6, 2018
Artist's presentation @ Dokkhuset, March 9 – 10 @ 10:00 – 17:00. See full program here.
THE COUNCIL
(Installation: 3D print, screens / 2017)
The artwork is inspired by the iconic sculpture The Thinker from Rodin that portrays a nude male figure in deep contemplation. De Wilde wondered: "What is The Thinker thinking NOW? How would a 21st Century Thinker look, feel and think like?"
These seemingly simple questions gave rise to monumental artwork The Council , an artistic installation that consists of a 3D-printed sculpture equipped with 'artificial brains' (i.e 38 screens branching in space, each connected to a Raspberry Pi's running custom code).
The Council presents us a glimpse of its 'private,' yet hyperconnected, metaphysical musings, corrupted memories, digital ruins, uncertain spaces and vectors of thought by the means of image and sound (server room field recordings moving around by Perlin noise). The installation runs custom pixel sorting algorithms exposing the nature of digital images and how easily we can manipulate them, mesh networked Raspberry pi's running custom code, mining for example, post-contemporary ruins like e- waste mountains etc. The mined videos and pictures rapidly deconstructed and glitched. Glitches occur in our identity (de/re)constructions; instabilities and errors in digitized financial markets (i.e. flash crashes); hacking, cracking, and tactical glitches; Dirty New Media Art approaches and the non-neutrality of technological systems.
In as much The Council is an Odyssey through the World Wide Web, Deep Web or a descend into the heart of Darknet, it is primarily created as an access point for the viewers minds, feelings and thoughts. Hence, the key element to 'unlock' De Wilde's thinker is the spectator, which lies at the heart of The Council.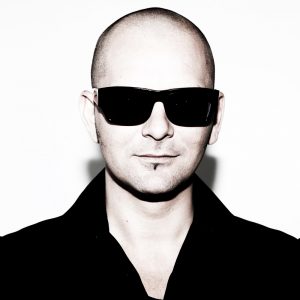 Frederik De Wilde (BE – 1975) works at the interstice of the art, science and technology. Frederik studied fine arts, media arts and philosophy. The conceptual crux of his artistic praxis are the notions of the inaudible, intangible and invisible. An excellent example is the conceptualisation, and creation, of the Blackest-Black art made in collaboration with American universities and NASA. The project received the Ars Electronica Next Idea Award and the Best European Collaboration Award between an artist and scientist, extensively covered in, e.g. Huffington Post, Creators Project, TED. In 2019 De Wilde brings the Blackest-Black art to the Moon in collaboration with Carnegie Mellon (www.moonarts.org/about/team), NASA, Astrobotic and Space-X. De Wilde is finalist of 'Giant Steps' which aims to bring an artist to the Moon supported by x-prize lab MIT, and finalist of the ZKM app art award with 'Coremites.' Frederik uses often data as a source for his creations (e.g. data visualisations, sonifications). He is a laureate of the Royal Belgian Young Academy of Arts and Sciences and Art & Science expert for the European Commission.
De Wilde collaborated with the KIT micro- and collective robotics lab in Karlsruhe, the University of Leuven (Prometheus, division of Skeletal Tissue Engineering), Hasselt University (I-BioStat, X-Lab), UGent (Textile Department), Wyoming University (Computer Science), ESTEC, and many other universities and organisations worldwide. De Wilde exhibited at the ZKM, Ars Electronica, Carroll/Fletcher Gallery, BOZAR, Carnegie Arts Museum, Trondheim Meta.Morf Biennial, Venice Biennial 2017 (…). His artworks are in the permanent collection of the ZKM (…), and private collections. Frederik was a guest professor at the Artscience Interfaculty in Den Hague, and Transmedia Brussels. His extended praxis includes creative- and innovation consultancy, micro-entrepreneurship, interdisciplinary research. De Wilde realised his first short film 'Joy Palace,' supported by the Flanders Audiovisual Fund, in 2017, produced by Potemkino, Bekke Films, Radiator Sales and supported by The Fridge. He is currently preparing a residency at the MOODY Center For The arts in Houston and the Max Planck Institute.
Frederik De Wilde is currently represented by White Circle Agency (www.whitecircle.xyz) and Sedition (www.seditionart.com) and is supported by the Flemish Ministry of Culture & The Flemish Community.