The Ballad of Genesis And Lady JayeOct. 22 & 24@ Cinemateket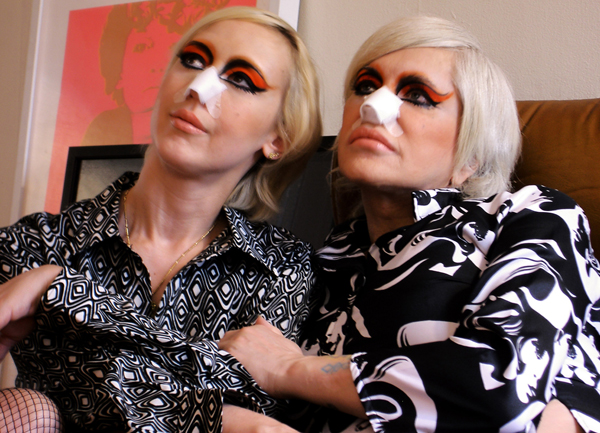 Cinemateket. I samarbeide med Forum Nidrosiae og konferansen 'HERE TO GO'.
Genesis P-Orridge (f. Neil Megson i 1950) var en grunnleggerne av Throbbing Gristle i 1975, bandet som egenhendig oppfant musikksjangeren "industrial", både gjennom musikken i seg selv – maskinmessig, støyende elektronisk avantgarderock – og en praksis og livsstil der Throbbing Gristle ble framstilt som et industriforetak som tilbød en lang rekke ulike produkter. Disse produktene kom i form av plater, konserter, kunstverk, performance og andre inngrep i det offentlige rom, og etterhvert også enkeltmennesker i gruppa, og da først og fremst Genesis P-Orridge. Hans transseksualitet og kjønnsmessige overskridelser førte til slutt til det diskutabelt mest ekstreme prosjektet i hans karriere så langt, forholdet til og samlivet med Jacqueline "Lady Jaye" Breyer og deres felles "pandrogynitet".
The Ballad of Genesis And Lady Jaye følger paret mens de arbeider for å bli mest mulig like hverandre, bl.a. ved hjelp av plastisk kirurgi. Målsetningen, som nærmest utelukkende var basert på kjærligheten de to imellom, var å bli to like deler av ett og samme vesen, en felles væren i to adskilte, men mest mulig identiske kropper. Denne fysiske og mentale overskridelsen pågikk fra de giftet seg i 1993 til Lady Jaye gikk bort i 2007, bare 44 år gammel. The Ballad of Genesis And Lady Jaye er en følsom kjærlighetshistorie, et åpenhjertig portrett av en banebrytende kunstner og provokatør, og en studie av følelsenes makt over materien.