PRESENTATION OF SPEAKERS @ META.MORF 2012
ALEX ADRIAANSENS [NL]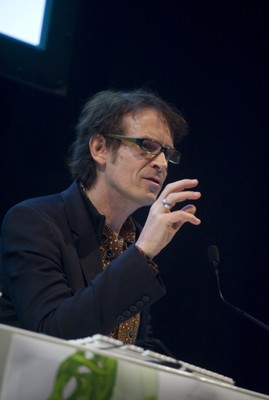 Alex Adriaansens is Meta.Morf's main exhibition curator.
Alex Adriaansens was one of the founders of V2_(1981), of which he is the general and artistic director. He's also the director of the DEAF bi-annual.
He is and has been a guest curator for different art and technology festivals and events (a.o. Meta.Morf, NO; MOCA in Taiwan; China Media Art Tri-annual in China; eArts Festival in China).
He has been giving many talks and presentations around the world at different occasions (universities, symposia, festivals, workshops, expert meetings a.s.).
He's is a member of the several Advisory Boards a.o.: Transmediale Festival, Berlin; The Franck Mohr Institute (NL); Todaysart Bi-annuel (NL),
He has been an advisor for different institutes and organisations in the field of art and technology (governmental and non-governmental) in China, Netherlands, Spain, Korea, Japan. Taiwan, Germany and Canada.
He is and has been a member of different juries for international art festivals and price awards a.o. Ars Electronica (Austria), Transmediale (Germany), Share (Italy), Laboral (Spain), Witteveen Bosch Award (NL).
He is a project advisor for funding bodies regarding the support of individual artist and international art projects for the Stimuleringsfonds for Architecture (NL).
Bio V2_
V2_ is a non-profit foundation based in Rotterdam. It is focussed on the relation between art, science and technology since 1981. The organisation is supported by the Dutch Ministry of OCW and the city of Rotterdam (Cultuurplan). On a project basis it collaborates in projects with universities and national research bodies (TNO) in research and innovation programs.
The organisation is internationally seen as one of the leading organisations in its field and can be seen as a centre of expertise for interdisciplinary collaborations.
V2_  is doing projects around the world like exhibitions, workshops, publications and advisory work (Brazil, China, Taiwan, Korea, Germany, Spain a.o.).
V2_ received many national and international prices for its work and projects, as did the artists that have been working at V2_.
Reference Link
ESPEN GANGVIK [NO]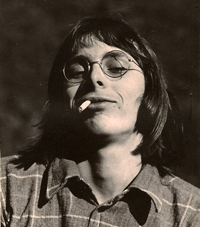 Espen Gangvik is an artist and curator. He graduated from Trondheim Art Academy in 1984. Gangvik has participated in numerous group exhibitions at home and abroad. He has since 1986 undertaken a number of commissions and is represented in several public collections.
In 2002 he founded TEKS – Trondheim Electronic Arts Centre, which aims to facilitate the production and dissemination of art that utilizes, and debate, new technologies. TEKS organize the bienniale for art and technology in Trondheim, Meta.Morf.
Gangvik is currently director of Meta.Morf and TEKS.
Reference Link
(1) A Matter of Feeling – Sep. 28 & 29:
PHILIP BEESLEY [CA]

Philip Beesley is a professor in the School of Architecture at the University of Waterloo. A practitioner of architecture and digital media art, he was educated in visual art at Queen's University, in technology at Humber College, and in architecture at the University of Toronto. At Waterloo he serves as Director for the Integrated Group for Visualization, Design and Manufacturing, and as Director for Riverside Architectural Press. He also holds the position of Examiner at University College London. His Toronto-based practice PBAI is an interdisciplinary design firm that combines public buildings with exhibition design, stage and lighting projects. The studio's methods incorporate industrial design, digital prototyping, and mechatronics engineering. Philip Beesley's work is widely cited in the rapidly expanding technology of responsive architecture. He has authored and edited eight books and appeared on the cover of Artificial Life (MIT), LEONARDO and AD journals. Features include national CBC news, Casa Vogue, WIRED, and a series of TED talks. His work was selected to represent Canada at the 2010 Venice Biennale for Architecture, and he has been recognized by the Prix de Rome in Architecture, VIDA 11.0, FEIDAD, two Governor General's Awards and as a Katerva finalist. Beesley's funding includes core CFI, SSHRC, NSERC and Canada Council for the Arts grants.
RESEARCH FOCUS: Responsive and distributed architectural environments and interactive systems, flexible lightweight structures integrating kinetic functions, microprocessing, sensor and actuator systems, with particular focus on digital fabrication methods and sheet-material derivations. Comprehensive architectural design and professional practice. textile structures; material crafts and fabrication; organicism and design integrated with nature; hybrid forms of nature. Emotion, romanticism and 20th century spiritualism as alternate qualities in Modernism; alterity and dissociation; chthonian and expanded definitions of space; the archaic. Current applied projects include solar-powered high-performance housing envelopes in exterior sites and architectural-scale geotextiles in museum spaces.
Reference Link
TAKASHI IKEGAMI [JP]
Takashi Ikegami is a professor in the Department of General Systems Sciences at the University of Tokyo. His works encompasses both the arts and sciences and deal with complex systems and artificial life.
He received his doctorate in physics from the University of Tokyo in 1989. Currently, he is a professor at the Department of General System Studies, at the University of Tokyo. His research is centered on complex systems and artificial life, a field which aims to build a possible form of life using computer simulations, chemical experiments and robots. Some of these results have been published in "Life Emerges in Motion" from Seido Book Publishers in 2007.
Takashi Ikegami most frequently attends the International Conference on Artificial Life, and gave the keynote address at the 20th Anniversary of Artificial Life conference in Winchester, UK. He is also a member and the editorial boards of Artificial Life, Adaptive Behaviors, BioSystems and Interaction Studies.
Reference Link
STELARC [AU]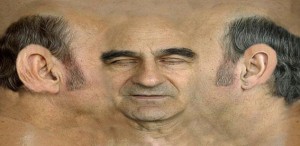 Stelarc is an Australian performance artist who explores alternate anatomical architectures. He has performed with a THIRD HAND, a VIRTUAL ARM, an EXTENDED ARM, STOMACH SCULPTURE and EXOSKELETON, a 6-legged robot. FRACTAL FLESH remotely actuates the body with electrical stimulation. PING BODY and PARASITE explore the body choreographed by internet data streams. PROSTHETIC HEAD, ARTICULATED HEAD, FLOATING HEAD and SWARMING HEADS are alternate embodiments of conversational agents. EAR ON ARM is partly surgically constructed and partly cell-grown. It will be internet-enabled, accessible to people in other places.
In 1997 he was appointed as Honorary Professor of Art and Robotics at Carnegie Mellon University, Pittsburgh. In 2000 he was awarded an Honorary Doctor of Laws by Monash University, Melbourne. Between 2006-2011 he was a Senior Research Fellow at the MARCS Labs at the University of Western Sydney. In 2010 he received a Special Projects Grant from the Australia Council and was also awarded the Ars Electronica Hybrid Arts Prize. He is presently Chair in Performance Art, Brunel University West London. Stelarc's artwork is represented by SCOTT LIVESEY GALLERIES, Melbourne.
What we need is not a Second Life but a Third Life where our avatars can interact not only in virtual space but with their surrogate physical hosts in the real world. Circulating flesh becomes fractal flesh becomes phantom flesh.
Second Life– goo.gl/GsJBA
Reference Link
KLAUS-PETER ZAUNER [UK]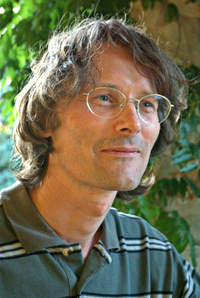 Klaus-Peter Zauner is a Senior Lecturer in the Agents, Interaction and Complexity group (AIC) of Electronics and Computer Science at the University of Southampton. He was born in Stuttgart, soldered together a Sinclair ZX81 as his first computer and went on to study Biochemistry at the University of Tuebingen. Intrigued by Nature's molecular scale information processing mechanisms he left Tuebingen in 1992 for Detroit to join Michael Conrad's Biocomputing Group—at the time one of the very few places with research in molecular computing and likely the first computer science group with its own wet-laboratory. Under Michael Conrad's mentorship he worked on conformational computing and enzymatic computing.
Klaus-Peter received his PhD in computer science from Wayne State University, Detroit in 2001. He started his academic career as a Visiting Assistant Professor at Wayne State University, then returned to Europe in 2002 to work with Peter Dittrich in the Bio Systems Analysis Group at the University of Jena, before taking up a Lectureship at the University of Southampton in 2003.
He leads a team that works across the boundaries of (bio-)chemistry, electronics, microfluidics, and computer science to integrate information processing into physical and chemical systems. The aim of this endeavour is to facilitate a step-change in the complexity of synthetic materials and thus narrow the gap between the intricate material organisation found in the biological world and what is available in the present engineering tool-kit.
Klaus-Peter was a Microsoft Research European Fellow, recipient of a Leverhulme Research Leadership Award, and is a founding editor of the International Journal of Unconventional Computing. He collaborates nationally and internationally to shape the direction of his nascent research field.
Reference Link
NEIL HARBISSON [UK]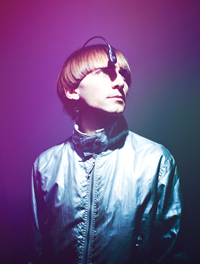 Neil Harbisson (27 July 1982) is a Catalan raised, Northern Ireland born contemporary artist, composer and cyborg activist best known for his self-extended ability to hear colours and to perceive colours outside the ability of human vision. In 2004 he became the first person in the world to wear an eyebrow. The inclusion of the eyeborg on his passport photo has been claimed by some to be official recognition of Harbisson as a cyborg. Colour and the use of technology as an extension of the performer, and not as part of the performance, are the central themes in Harbisson's work. In 2010, he founded the Cyborg Foundation, an international organisation to help humans become cyborgs.
There are no white skins; there are no black skins; human skins are of different shades of orange
Reference Link
(2) FICTIONAL INFLUENCES – Oct. 4:
NEIL SPILLER (UK)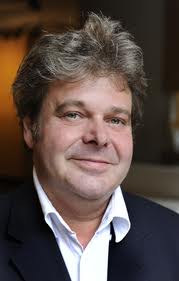 Neil Spiller is Dean, School of Architecture, Design & Construction at the University of Greenwich, Professor of Architecture and Digital Theory, Founding Director of the Advanced Virtual and Technological Architecture Research Group (AVATAR) and a practising architect.
He was previously Vice Dean, the Graduate Director of Design, at the Bartlett School of Architecture, University College, London. He is author of the book 'Digital Dreams- Architecture and the New Alchemic Technologies'(1998). He is co-editor of AD 'Architects in Cyberspace' (1995), guest-editor of AD 'Integrating Architecture' (1996), AD' Architects in Cyberspace II' (1998) and AD 'Young Blood' (2001) and formally editor of 'Building Design Interactive' magazine.
He is co-editor with Sir Peter Cook of 'The Power of Contemporary Architecture (1999) and the 'Paradox of Contemporary Architecture' (2001). His monograph 'Maverick Deviations' was published by Wiley in 2000 and his book 'Lost Architecture' about architectural projects of the last two decades of the twentieth Century was published by Wiley in 2001.
I think there is a place for algorithmic architecture, but to explore it properly we might have to leave the computer behind and evoke the biotechnical.
He is also one of the ten international critics featured in the Phaidon book 10×10. He is also the Editor of 'Cyberreader' for Phaidon published in March 2002. Also he guest-edited a further edition of AD entitled 'Reflexive Architecture' published in May 2002. His book 'Visionary Architecture- Blueprints of the Modern Imagination' was published by Thames and Hudson in November 2006 and his 'Digital Architecture NOW' a compendium of contemporary digital architectural practice was published by Thames and Hudson in November 2008. His "Spiller's Bits" articles appeared in every AD Magazine from January 2008 to January 2010.
He was the 2002 John and Magda McHale Research Fellow at the State University of New York at Buffalo. His work has been exhibited around the world. Recently he co-edited 'Protocell Architecture' AD, Wiley March 2011 and is currently working on a book "Convulsive Beauty and Surrealist Architecture, Past, Present and Future" for Thames and Hudson. His articles and design work have been published in every major design and architecture magazine worldwide.
Reference Link
(3) HERE TO GO – Oct. 20:
Kendell Geers [ZA]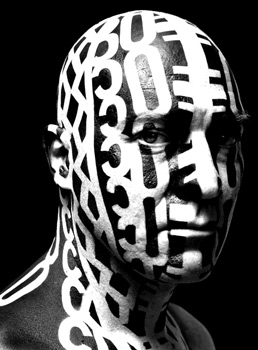 Kendell Geers is an artist, performance artist, musician and film-maker born in Johannesburg in 1968. In 1988, Geers was one of 143 young men who publicly refused to serve in the South African Defence Force and faced either a life in exile or 6 years imprisonment in a civilian jail. In 1989 he left South Africa and lived for a brief period in exile in the United Kingdom and New York where he worked as an assistant to artist Richard Prince.
It was only after Nelson Mandela and other political prisoners' release from prison, that Geers could return from exile to Johannesburg without fear of being imprisoned. In 1990, he returned to Johannesburg where he worked as an artist, and art critic, curator and performance artist. The first work of art he created back on South African soil was "Bloody Hell", a ritual washing of his white Afrikaner Boer body with his own fresh blood.
Geers rose to international notoriety when he urinated in Marcel Duchamp's Fountain in Venice in 1993. He has exhibited globally since the same year and participated in numerous exhibitions.
The artist, like the jester, trickster and shaman are able to say, do, think and express ideas and images, to speak uncomfortable truths that open doors of perception, which would land any other member of society in jail or banished from the community.
Carl Abrahamsson [SE]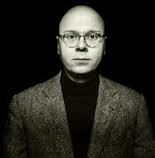 Carl Abrahamsson is a writer, photographer, musician, publisher and misanthropologist based in Stockholm, Sweden. He is the editor of The Fenris Wolf journal and co-director of Edda Publishing. He has previously visited Forum Nidrosiae with the lecture Contemporary Timelessness – Eternal Trends and the film program Back To Human Nature, as well as with the photography exhibition Döden i våra hjärtan.
The fiction of sorcery has been replaced by the sorcery of fiction.
Reference Link
Gary Lachman [US]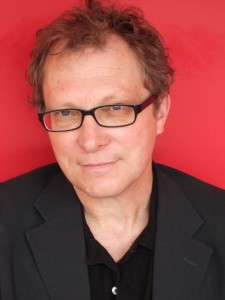 Gary Lachman is the author of more than a dozen books charting the meeting ground between consciousness, culture, and the western esoteric tradition, most recently Madame Blavatsky: The Mother of Modern Spirituality (Penguin 2012). Other titles include Turn Off Your Mind: The Mystic Sixties and the Dark Side of the Age of Aquarius (Disinformation 2003), The Secret History of Consciousness (Lindisfarne 2003), and Politics and the Occult (Quest 2008). His biography of Rudolf Steiner (Penguin 2007) has been translated into Norwegian and is published by Flux as Rudolf Steiners Liv Og Tanker, and his other books have been translated into several European languages. He is a regular contributor to Fortean Times, Independent on Sunday, Guardian, LA Review of Books and other journals in the UK and US. In 2011 he contributed an audio guide to the exhibition Geheim Gesellschaften ('Secret Societies') held at the Schirn Kunsthalle in Frankfurt and the Museum of Contemporary Art in Bordeaux, where he also lectured on the link between esotericism and the modern world; he also contributed two essays to the exhibition's catalog Secret Societies (Snoeck 2011).
Mr. Lachman lectures frequently in the UK and Europe and is currently researching a book about Aleister Crowley and popular culture. In a previous life, he was a founding member of the rock group Blondie, and in 2006 was inducted into the Rock and Roll Hall of Fame.
Popular culture in general has served as a way of communicating esoteric ideas, in the face of a 'highbrow' culture that rejects them.
Reference Link
Jesper Aagaard Petersen [DK]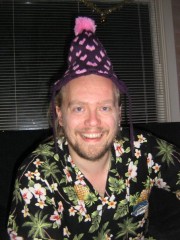 Jesper Aagaard Petersen is an Associate Professor at the Norwegian University of Science and Technology and a regular lecturer and co-conspirator in Forum Nidrosiae. His primary interest is what is popularly called "the alternative scene", "New Age" or "occultism", that is detraditionalized and syncretistic religion in the contemporary West, particularly small informal groups and individual seekers within a larger "cultic milieu" of "occulture".
Concrete, asphalt, bricks, steel and paper, not to mention crowds, commercials, electricity, fumes and city-space itself, have powers and dangers unlike those found in nature.
Karen Nikgol [IR]
Karen Nikgol is an artist, choreographer and curator born in Teheran in the midst of the Iran-Iraq War. The effects of war, memory and masculinity has effected his work strongly. Karen Nikgol tries to analyze the mind, memory and identity through his background, but without taking any cultural point of view, only in aesthetical, philosophical and abstract terms. He is currently working on a spy opera about the inner world of a mute midget, called "The Silent Song of the Sphinx". It will be staged at Black Box Theater in Oslo in early October 2012. Other projects include a solo show of paintings at Leyla Heller Gallery in New York and curating at the contemporary art space in Oslo, NoPlace.
How much is really left of an experience once one has experienced it? It is reduced to a thought, a smell, a feeling that can be awakened by anything related to that exact memory. It is still there, living and breathing inside, only transformed into something quite different, individual. But the memory must be expressed in order to stay alive, and in order to stay in tune with the nature of fluxus, that which always is in motion.
Reference Link
Andrew M. McKenzie [UK/EE]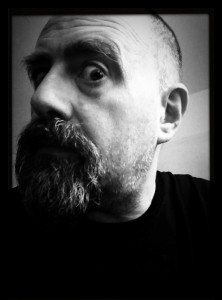 Andrew M. McKenzie is the core of The Hafler Trio, international protagonists of mood engineering for over 25 years, co-founder of Simply Superior, psychotherapist, hypnotherapist, lecturer, teacher, seminar and workshop leader in Creative Thinking, inventor of Complemation, sound engineer, designer, writer, programmer, classical guitar teacher, and far too many other things.
His present goals all involve applying everything learned by experience over the last 48 years for the benefit of others.
"Responsibility" is the ability of the self to respond with the maximum flexibility it allows itself.
Reference Link
MARTIN PALMER [NO]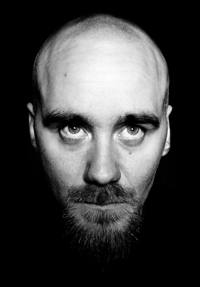 Martin Palmer studied psychology and religion at the Norwegian University of Science and Technology before venturing into the art world. As an independent curator, enthusiast, and autodidact musician, he has presented, produced and performed several works of noise and experimental music in his hometown of Trondheim, Norway and other places in Europe. As a proud agent of Origami Republika, he is one of the inheritors of the Klubb Kanin concert series concept, which celebrates it's 15th Anniversary during Meta.Morf 2012.
With a lifelong interest in fringe philosophy, counter culture and esotericism, he founded Forum Nidrosiae in 2008 as an open forum for what is generally known as "occulture," and is currently developing a branch under this moniker focusing on contemporary artistic endeavors within the cultic milieu.
During the day he works with digital cinema technology.
There is an intimate relationship between art and the spiritual.
Reference Link