STELARC [AU]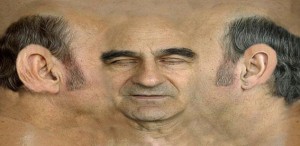 Stelarc er en australsk performance-kunstner som utforsker ulike anatomiske arkitekturer. Han har opptrådt med en THIRD HAND, en VIRTUAL ARM, en EXTENDED ARM , STOMACH SCULPTURE og EXOSCELETON, en seksbent robot. FRACTAL FLESH fjernstyrer kroppen ved hjelp av elektrisk stimulering. PING BODY og PARASITE utforsker en kropp som koreograferes av datastrømmer fra internett. PROSTHETIC HEAD, ARTICULATED HEAD, FLOATING HEAD og SWARMING HEADS er variasjoner over legemliggjøringen av konversasjonelle roboter. EAR ON ARM er delvis kirurgisk konstruert og delvis dyrket fram fra celler. Øret blir internett-aktivert og gjøres tilgjengelig for folk som befinner seg andre steder.
I 1997 ble han utnevnt til Honorary Professor of Art and Robotics ved Carnegie Mellon University, Pittsburgh. I 2000 ble han Honorary Doctor of Laws ved Monash University, Melbourne. I perioden 2006-2011 var han Senior Research Fellow ved MARCS Labs, University of Western Sydney. I 2010 mottok han et Special Projects stipend fra the Australia Council ble i tillegg tildelt the Ars Electronica Hybrid Arts Prize. Han er i dag Chair in Performance Art, Brunel University West London. Stelarcs kunst representeres av SCOTT LIVESEY GALLERIES, Melbourne.
Det vi trenger er ikke et Second Life men et Third Life, hvor våre avatarer kan interagere ikke bare i det virtuelle rommet, men med sine fysiske surrogatverter i den virkelige verden. Legemer i omløp blir til fraktallegemer blir til fantomlegemer.
Second Life– goo.gl/GsJBA