Fractured bonesSep. 28 & 29@ TeaterhusetAvantgarden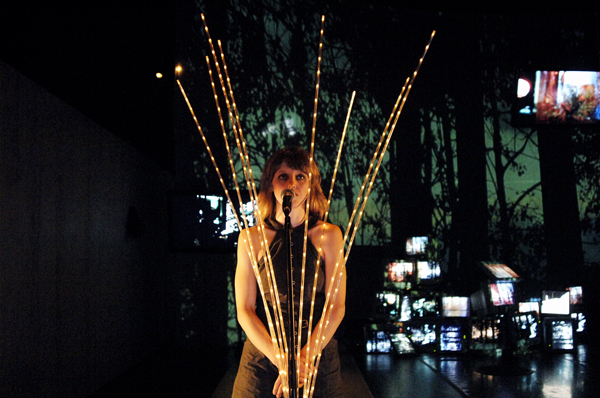 Teaterhuset Avant Garden – Friday Sep. 28 at 7PM and Saturday Sep. 29 at 7PM.
Am I in? (or out?) Am I lost? (or found?)
Don't look back. Keep moving forward. Do nothing of any notice, nothing to make anyone remember you. Everything by chance. All words without thought. Follow that which you love in a straight line.
Who would you be if you decided not to be who you are anymore?
«fractured bones/ let's get lost» draws on 'disappearance' impulses to create a performance that brushes across theater, dance, live music and video installation to make a slippery and nebulous take on futurism. Findlay//Sandsmark conspire with musician/composer Pål Asle Pettersen, performer Eric Dyer (radiohole) and performer/video game modder Victor E. Morales. Working from a parable about a 'disappearer', the piece explores the idea of object permanence and performance while picking apart other hard-boiled motifs to create a dialectic between the present and the future, the interior and the exterior.
Written by and playing: Iver Findlay, Marit Sandsmark, Pål Asle Pettersen, Eric Dyer, Victor E. Morales
Scenographic assistance: Ruud van den Akker
Costume: Mia Koch
Co-produced by: Black Box Teater, RAS, Tou Scene
ARTIST: Findlay//Sandsmark (USA/NORGE)
Title: <<fractured bones/ let's get lost>>
DATE AND TIME: Fredag 28. september kl 19.00 Lørdag 29. september kl 19.00
THEATER: Teaterhuset Avant Garden
PRICE: NOK 190/120
If you have a valid ticket for Meta.Morf , the price is NOK 95.
DURATION: 1 hour
PERFORMED IN ENGLISH
Supported by: Norsk Kulturråd, Fond for lyd og bilde, Stavanger Kommune/kulturbyfondet, Fond for utøvende kunstnere, Rogaland Fylkeskommune, STIKK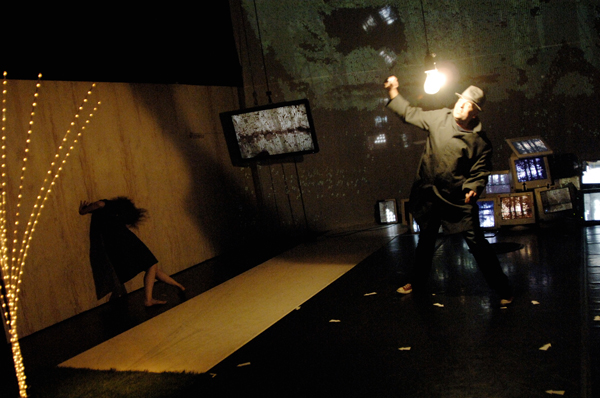 http://www.avantgarden.no/en/program/fractured-bones-lets-get-lost