Carl Abrahamsson [SE]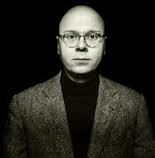 Carl Abrahamsson er forfatter, fotograf, musiker, forlegger og misantropolog med base i Stockholm. Han er redaktør for journalen The Fenris Wolf og kodirektør hos Edda Publishing. Han har tidligere besøkt Forum Nidrosiae med foredraget Contemporary Timelessness – Eternal Trends, filmprogrammet Back To Human Nature, og fotoutstillingen Döden i våra hjärtan.
The fiction of sorcery has been replaced by the sorcery of fiction.