RACHEL ARMSTRONG [UK]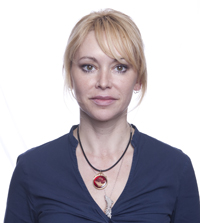 Rachel Armstrong aksepterte svært vennlig Meta.Morfs invitasjon til å kuratere og modere årets biennalekonferanse! Vi er overlykkelige!
Rachel Armstrong skaper og designer bærekraftige løsninger for konstruerte og naturlige miljøer. Hun benytter avanserte, nye teknologier, som syntetisk biologi – rasjonell produksjon av levende systemer – og smart kjemi. Forskningen hennes fremmer en reevaluering av hvordan vi tenker omkring våre hjem og byer, og stiller spørsmål knyttet til bærekraftig utvikling for våre bygde omgivelser. Hun skaper åpne plattformer for innovasjon, hvor akademia og industrien i fellesskap kan angripe utfordringer som karbonfangst og resirkulering, smarte «levende» materialer og bærekraftig design.
Hennes prisvinnende forskning underbygger den modige holdningen hun har når hun utfordrer oppfatninger, antakelser og etablerte prinspipper knyttet til vitenskapelige konsepter og livets og samfunnets byggeklosser. Hun legemliggjør og promoterer nye, overførbare tankemåter som er «utenfor boksen», og gjør det mulig også for andre å utvikle innovative løsninger for miljøet.
Forskere må bevege seg utenfor sitt eget fagfelt for å skape nye teknologier som har relevans for det 21. århundre, og samarbeide både med andre vitenskapelige fagdisipliner og med humanistiske fag og kunstfag. – Rachel Armstrong
Armstrong er Co-Director på AVATAR (Advanced Virtual and Technological Architectural Research) ved Architecture & Synthetic Biology, The School of Architecture & Construction, University of Greenwich, London. 2010 Senior TED Fellow, og Visiting Research Assistant ved Center for Fundamental Living Technology, Department of Physics and Chemistry, University of Southern Denmark.
Armstrong har base i London og er for tiden tilknyttet The University of Greenwich.
Rachel Armstrong TED conferences attended:
TEDGlobal 2012, TED2012, TEDGlobal 2011, TED2011, TEDGlobal 2010, TED2010, TEDGlobal 2009.
https://www.facebook.com/livingarchitect?ref=ts
http://www.bio-pulp.com/
http://facebook.com/livingarchitecture
http://www.ted.com/profiles/view/id/243381
http://grayanat.posterous.com
http://www.domusweb.it/en/architecture/interview-with-rachel-armstrong