INTRO
CONCEPT
META.MORF
WHO
STAFF
PARTNERS
ABOUT TEKS
Between September 27 and October 28, 2012, TEKS arranges Norway's most extensive biennial for art and technology for the second time, with the subtitle 'A Matter of Feeling'.
Every relational system operates on affect, or as we often call it, feelings.
Art, design and architecture have become a question of relational design, which again concerns our cities, the environment, politics, consumer behaviour, social relations, even life itself.
Life is impure, revealing itself as an open and complex system with porous boundaries, bringing forth an endless social and biological diversity. Every relational system operates on affect, or as we often call it, feelings. Human and nonhuman actions and interactions are expressions of these networked relations.
Meta.Morf 2012 presents art and design projects that are based on sympathy and affinity with life forms of both a technological and natural character.
What constitutes the connective behaviour from which networks, and finally form emerge? Is it an empathy-based interaction, or in other words, a matter of feeling?
Alex Adriaansens
Espen Gangvik
What is Meta.Morf?
The development and use of new technologies happens at an increasingly rapid pace, and bio technology, nano technology and new communications- and computer technologies entails examples of new tools for artists, tools that can open new worlds of ideas as well as making previously not manageable ideas realizable.
New scientific insights often implies new philosophical and existential questions. Artistic and scientific research are continuously part of challenging and changing our perspectives. The artist as a directly and an indirectly conveyor and interpreter of new knowledge and research, plays a crucial role for society's abilty for both having a proper insight, as well as being able to maintain an adequate discourse, regarding the use of new technologies and scientific advancements.
Biotechnology, nanotechnology, neurotechnology and new communications and computing technologies represent examples of tools that give artists the opportunity to develop ideas beyond known limits and to create entirely new concepts for artistic content and presentation.
Artistic activities at its best has always been the basis for new acknowledgments and new insights. The artist as a deliverer of ideas and a catalyst in various fields of research contributes to expand scientific perspective and creativity.
The biennale Meta.Morf shall for a broader audience amongst other present artists, musicians, writers and researchers with projects and performances that in different ways contributes in expanding our perspectives on life, and beyond.
Espen Gangvik
director TEKS
// Exhibition curators //
Alex Adriaansens, director V2_ / Espen Gangvik, director TEKS
// Conference curators //
Rachel Armstrong / Espen Gangvik / Martin Palmer
// Concert curators //
Espen Gangvik / Arnfinn Killingtveit / Martin Palmer
// Film & Video curators //
Svein Inge Sæther / Gisle Frøysland
// Reference Board //
Alex Adriaansens
Director, V2_, Rotterdam
Clive Kellner
Director, Johannesburg Art Gallery, South Africa
Jeremy Welsh
Artist, Professor, Bergen National Academy of the Arts
Jemima Rellie
Vice President, Comms & Public progr., Getty Conservation Institute, Los Angeles
Zhang Ga
Curator, The National Museum of Modern Art,  Beijing
// Meta.Morf staff //
Espen Gangvik, Director
Amalie Marie Selvik, Press coordinator
Jørgen Hallås Skatland, Arrangement manager
Daniel Richards, Exhibition producer
Martin Palmer, Concert producer
Arnfinn Killingtveit, Assistant
Joakim Moldestad, Assistant
Per Kristian Nygård, Assistent
// Volunteers //
Truls Nedland Stangeland
Julie Nordhagen
Astri Bang
Andreas Schille
Mathieu Lacroix
Knut Olai Mjøs Helle
Anita Wollamo
Katarina Marthinsen
Kaya Sinem Cetin
Andrea Menendez
Karen Kjærsgård
Jessica Vargas
SPONSORS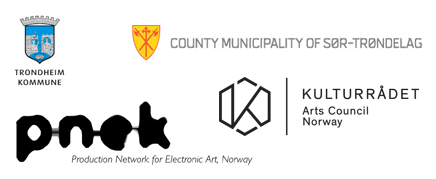 Trondheim Municipality, Arts Council Norway, South-Trøndelag County Council, PNEK, NTNU.
PARTNERS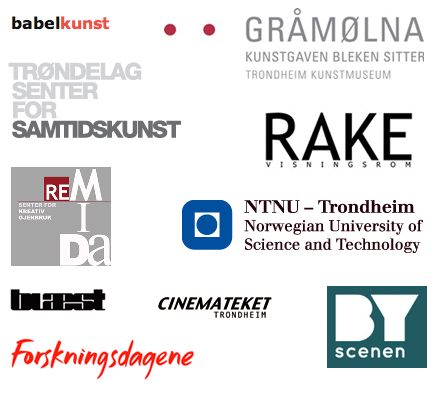 Trondheim Art Museum – Gråmølna | Babel Art Space | Trøndelag Center for Contemporary Art | Rake Showroom | ReMida – Center for creative recycling | Theater AvantGarden | Trondheim Cinematheque | Byscenen | Blæst | NTNU
TEKS is the organizer of Meta.Morf.
TEKS – Trondheim Electronic Arts Centre is a non-profit organization founded in Trondheim in 2002. The organization is a resource and competence centre that aims to realize techno related art projects within all art disciplines.
TEKS initiates and organizes artistic productions and projects, works with promotion and education through courses and workshops, and acts as organizer or coorganizer of various techno related cultural initiatives.
TEKS is in 2012 funded by the Norwegian government, the Arts council Norway and Trondheim Municipality. TEKS is a member of PNEK, Production network for Electronic arts, Norway.