STELARC [AU]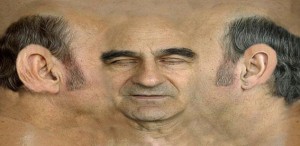 Stelarc is an Australian performance artist who explores alternate anatomical architectures. He has performed with a THIRD HAND, a VIRTUAL ARM, an EXTENDED ARM, STOMACH SCULPTURE and EXOSKELETON, a 6-legged robot. FRACTAL FLESH remotely actuates the body with electrical stimulation. PING BODY and PARASITE explore the body choreographed by internet data streams. PROSTHETIC HEAD, ARTICULATED HEAD, FLOATING HEAD and SWARMING HEADS are alternate embodiments of conversational agents. EAR ON ARM is partly surgically constructed and partly cell-grown. It will be internet-enabled, accessible to people in other places.
In 1997 he was appointed as Honorary Professor of Art and Robotics at Carnegie Mellon University, Pittsburgh. In 2000 he was awarded an Honorary Doctor of Laws by Monash University, Melbourne. Between 2006-2011 he was a Senior Research Fellow at the MARCS Labs at the University of Western Sydney. In 2010 he received a Special Projects Grant from the Australia Council and was also awarded the Ars Electronica Hybrid Arts Prize. He is presently Chair in Performance Art, Brunel University West London. Stelarc's artwork is represented by SCOTT LIVESEY GALLERIES, Melbourne.
What we need is not a Second Life but a Third Life where our avatars can interact not only in virtual space but with their surrogate physical hosts in the real world. Circulating flesh becomes fractal flesh becomes phantom flesh.
Second Life– goo.gl/GsJBA