Kendell Geers [ZA]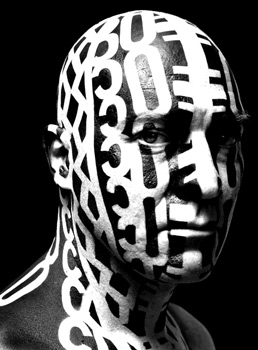 Kendell Geers is an artist, performance artist, musician and film-maker born in Johannesburg in 1968. In 1988, Geers was one of 143 young men who publicly refused to serve in the South African Defence Force and faced either a life in exile or 6 years imprisonment in a civilian jail. In 1989 he left South Africa and lived for a brief period in exile in the United Kingdom and New York where he worked as an assistant to artist Richard Prince.
It was only after Nelson Mandela and other political prisoners' release from prison, that Geers could return from exile to Johannesburg without fear of being imprisoned. In 1990, he returned to Johannesburg where he worked as an artist, and art critic, curator and performance artist. The first work of art he created back on South African soil was "Bloody Hell", a ritual washing of his white Afrikaner Boer body with his own fresh blood.
Geers rose to international notoriety when he urinated in Marcel Duchamp's Fountain in Venice in 1993. He has exhibited globally since the same year and participated in numerous exhibitions.
The artist, like the jester, trickster and shaman are able to say, do, think and express ideas and images, to speak uncomfortable truths that open doors of perception, which would land any other member of society in jail or banished from the community.