Carl Abrahamsson [SE]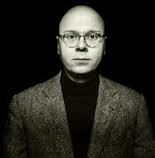 Carl Abrahamsson is a writer, photographer, musician, publisher and misanthropologist based in Stockholm, Sweden. He is the editor of The Fenris Wolf journal and co-director of Edda Publishing. He has previously visited Forum Nidrosiae with the lecture Contemporary Timelessness – Eternal Trends and the film program Back To Human Nature, as well as with the photography exhibition Döden i våra hjärtan.
The fiction of sorcery has been replaced by the sorcery of fiction.