NEIL SPILLER (UK)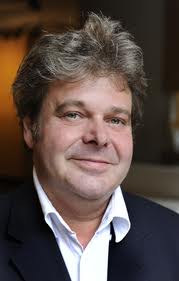 Neil Spiller is Dean, School of Architecture, Design & Construction at the University of Greenwich, Professor of Architecture and Digital Theory, Founding Director of the Advanced Virtual and Technological Architecture Research Group (AVATAR) and a practising architect.
He was previously Vice Dean, the Graduate Director of Design, at the Bartlett School of Architecture, University College, London. He is author of the book 'Digital Dreams- Architecture and the New Alchemic Technologies'(1998). He is co-editor of AD 'Architects in Cyberspace' (1995), guest-editor of AD 'Integrating Architecture' (1996), AD' Architects in Cyberspace II' (1998) and AD 'Young Blood' (2001) and formally editor of 'Building Design Interactive' magazine.
He is co-editor with Sir Peter Cook of 'The Power of Contemporary Architecture (1999) and the 'Paradox of Contemporary Architecture' (2001). His monograph 'Maverick Deviations' was published by Wiley in 2000 and his book 'Lost Architecture' about architectural projects of the last two decades of the twentieth Century was published by Wiley in 2001.
I think there is a place for algorithmic architecture, but to explore it properly we might have to leave the computer behind and evoke the biotechnical.
He is also one of the ten international critics featured in the Phaidon book 10×10. He is also the Editor of 'Cyberreader' for Phaidon published in March 2002. Also he guest-edited a further edition of AD entitled 'Reflexive Architecture' published in May 2002. His book 'Visionary Architecture- Blueprints of the Modern Imagination' was published by Thames and Hudson in November 2006 and his 'Digital Architecture NOW' a compendium of contemporary digital architectural practice was published by Thames and Hudson in November 2008. His "Spiller's Bits" articles appeared in every AD Magazine from January 2008 to January 2010.
He was the 2002 John and Magda McHale Research Fellow at the State University of New York at Buffalo. His work has been exhibited around the world. Recently he co-edited 'Protocell Architecture' AD, Wiley March 2011 and is currently working on a book "Convulsive Beauty and Surrealist Architecture, Past, Present and Future" for Thames and Hudson. His articles and design work have been published in every major design and architecture magazine worldwide.