ALEX ADRIAANSENS [NL]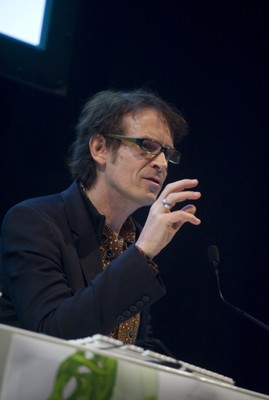 Alex Adriaansens is Meta.Morf's main exhibition curator.
Alex Adriaansens was one of the founders of V2_(1981), of which he is the general and artistic director. He's also the director of the DEAF bi-annual.
He is and has been a guest curator for different art and technology festivals and events (a.o. Meta.Morf, NO; MOCA in Taiwan; China Media Art Tri-annual in China; eArts Festival in China).
He has been giving many talks and presentations around the world at different occasions (universities, symposia, festivals, workshops, expert meetings a.s.).
He's is a member of the several Advisory Boards a.o.: Transmediale Festival, Berlin; The Franck Mohr Institute (NL); Todaysart Bi-annuel (NL),
He has been an advisor for different institutes and organisations in the field of art and technology (governmental and non-governmental) in China, Netherlands, Spain, Korea, Japan. Taiwan, Germany and Canada.
He is and has been a member of different juries for international art festivals and price awards a.o. Ars Electronica (Austria), Transmediale (Germany), Share (Italy), Laboral (Spain), Witteveen Bosch Award (NL).
He is a project advisor for funding bodies regarding the support of individual artist and international art projects for the Stimuleringsfonds for Architecture (NL).
Bio V2_
V2_ is a non-profit foundation based in Rotterdam. It is focussed on the relation between art, science and technology since 1981. The organisation is supported by the Dutch Ministry of OCW and the city of Rotterdam (Cultuurplan). On a project basis it collaborates in projects with universities and national research bodies (TNO) in research and innovation programs.
The organisation is internationally seen as one of the leading organisations in its field and can be seen as a centre of expertise for interdisciplinary collaborations.
V2_  is doing projects around the world like exhibitions, workshops, publications and advisory work (Brazil, China, Taiwan, Korea, Germany, Spain a.o.).
V2_ received many national and international prices for its work and projects, as did the artists that have been working at V2_.