Meta.Morf X – Digital Wild / Trondheim kunstmuseum – Gråmølna, March 5 – May 3, 2020 / Curator: Espen Gangvik
MARIA SMIGIELSKA [ch/pl] / PIERRE CUTELLIC [ch/fr]
PROTEUS 2.0
Proteus 2.0 is the second version in a series of experiments on modulating matter with both human and machine intelligences. It employs the complex behaviour of ferrofluid material, which through magnetic fields, constantly changes its shape, from dots to meandering stripes and coagulated regions. Visual exposure to such a black and white graphic pattern is used as an apparatus to understand human intelligence, that of making meaning in a constantly changing flow of images of unpredictable symbolic relations.
The exhibited installation recalls an experiment run during the Ars Electronica Festival 2018 by presenting an artefact of the experiment's interaction with the audience. As a hybrid analog and digital display, it is a low resolution device with grid based magnetic actuators that modulate highly sophisticated and no-end resolution ferropixels. This instrument inferred on digitally-encoded material properties with the use of a computational mixture of both human neural patterns and machine vision. Through an individual and prolonged visual experience, the visitors were brought into an implicit and intimate interaction with the material with the use of a custom, gaze-based, brain-computer interface. A pre-trained machine learning model was fed with real-time neural signals produced by the visitor's gaze while being exposed to the rapid serial change of patterns. During about 15 mins of gazing, visitors would witness a certain stabilisa- tion of the ferrofluid pattern based on their own brainwave signals.
Just like the greek god Proteus was capable of assuming many forms, the formal representation of this idea in a project follows the ever-changing nature of the ferrofluid. It has iteratively evolved during the artistic research, software/hardware developments and explorations of varied modes of interaction, yet it always revolves around the same questions and amplifies the body of the project.
Project team: Maria Smigielska / Pierre Cutellic / Daniel Nikles
Production support: TEKS – Trondheim Electronic Arts Centre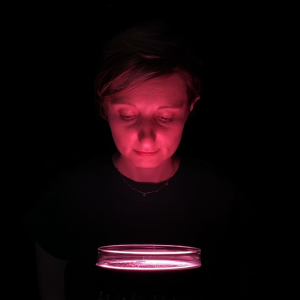 Maria Smigielska
MSc Arch, MAS ETH CAAD
Maria is an architect and researcher educated in Poland (TU Poznan) and Switzerland (ETH) and based in Zurich. Her interest lies in the enhancement of creative potentials through automated procedures in design and architecture. Her recent work is focused on holistic approach of computational design, machine learning for knowledge encapsulation (f.ex. material knowledge in robotic rod bending – bendilicious.com), as well as robotic procedures for post-industrial fabrication, performative and interactive processes. Her work is conveyed through talks, publications, educational workshops and frequent exhibitions, with the most recent ones at Tallinn Architecture Biennale 2017 or Ars Electronica Linz 2018. She currently works as a researcher at FHNW Integrative Design Basel and runs her design practice in Zurich.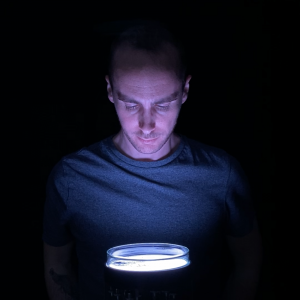 Pierre Cutellic
Phd Fellow, Architect DPLG – FR
cand. Dr Sc. ETHz
Pierre is an architect, designer and researcher educated in France and based in Zürich. He is currently a Phd Fellow at CAAD, ETH Zürich researching on neurotechnologies, machine learning, cognitive science, perceptual and cognitive curation. His recent projects focus on interfacing human cognitive visual discrimination patterns found in neural activity, together with generative design models, to create closed computational loops of inference for new modelling technologies. His work and research has been published and exhibited frequently in Europe since 2010. Most recent appearances include exhibitions of his art and design work at Art Electronica Festival 2018, and the upcoming Exhibition "Neurons" at Centre Pompidou Paris in February 2020.