Meta.Morf X – Digital Wild / Trondheim kunstmuseum – Gråmølna, March 5 – May 3, 2020 / Curator: Espen Gangvik
KELLY RICHARDSON [ca]
ORION TIDE
Quiet stillness and spectacular drama, mesmerising beauty and unnerving strangeness, hard science and creative fiction: artist Kelly Richardson brings these dualities together in works of calculated tension and ambiguity. Her immersive video installations offer imaginative views of the future that are plausible enough to prompt careful consideration of the present.
In making her artwork, Richardson takes cues from 19th-century painting, 20th-century cinema and 21st-century scientific inquiry. One can compare her evocative use of colour and light to that of romantic landscape painters J.M.W. Turner and Albert Bierstadt. Her slow, eerie scenes recall moments in popular films just before or after alien attacks, nuclear battles or apocalyptic storms. Hyper-realistic details in her videos reveal the work of a meticulous researcher, interested in both natural phenomenon and human invention. Much of the artwork that Richardson creates could be labeled science fiction. She acknowledges that she sees the genre as "one of the best tools we have to visualise and experience, to some degree, what life might be like." And she argues that, "given the predicted fallout of the climate crisis, there has never been a more important time to visualise our potential futures."
In her video installation Orion Tide, what are those sudden eruptions of light and smoke? Missiles? Rockets? At whom or what are they being launched? Who or what are they carrying? Is this the departure of explorers, off to bravely pioneer a new world? Or, is this the escape of refugees – a mass exodus of humanity? The artist deliberately leaves these questions unanswered.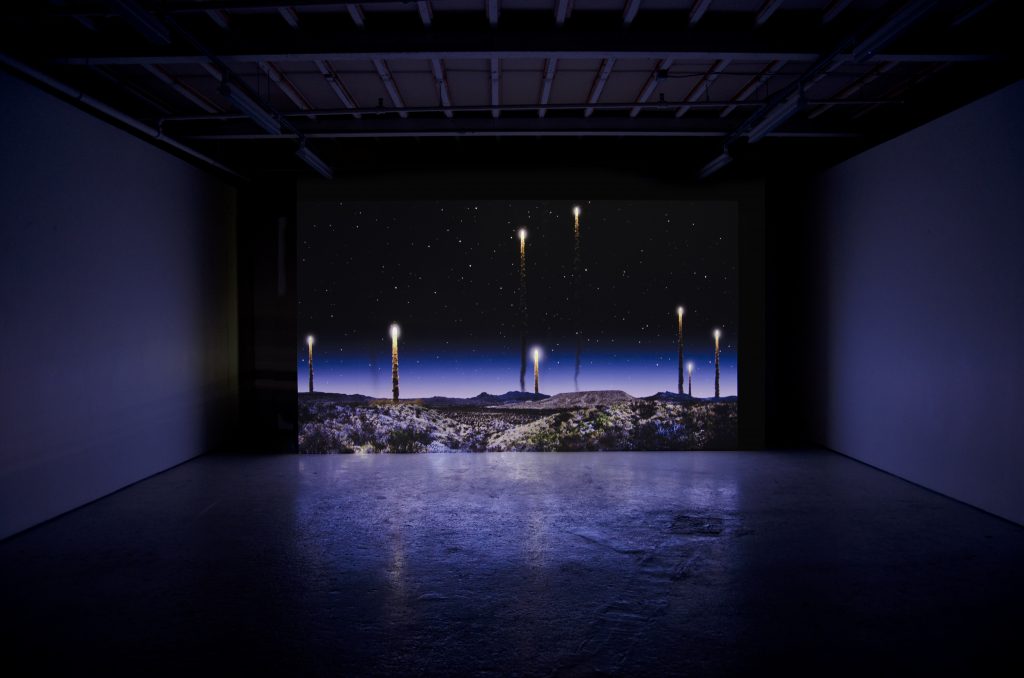 Kelly Richardson is recognised as one of the leading representatives of a generation of artists working with digital technologies to create hyper-real, highly charged landscapes, Kelly Richardson has been widely acclaimed in North America, Asia and Europe. Recent one person exhibitions include Dundee Contemporary Arts, SMoCA, CAG Vancouver, VOID Derry,  Naturhistorisches Museum Wien and a major survey at the Albright-Knox. Her work was selected for the Beijing, Busan, Canadian, Gwangju and Montréal biennales, and major moving image exhibitions including the The Cinema Effect: Illusion, Reality and the Moving Image at the Hirshhorn Museum and Sculpture Garden (Washington, USA). Her video installations have been included in the Toronto International Film Festival as part of Future Projections (2012), Sundance Film Festival in New Frontier (2011 and 2009) and in 2009, she was honoured as the featured artist at the Americans for the Arts National Arts Awards.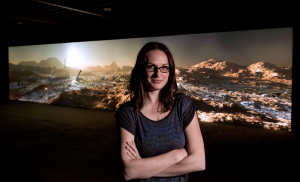 Richardson's work has been acquired into significant museum collections across the USA, UK and Canada, from the Hirshhorn Museum and Sculpture Garden, SMoCA and Albright-Knox Art Gallery to the National Gallery of Canada, Art Gallery of Ontario, Musée d'art contemporain de Montréal, Arts Council Collection (England) and the Towner.
Kelly Richardson was born in Burlington, Ontario, Canada in 1972. She currently lives and works as a visitor on the traditional territory of the WSANEC peoples of the Coast Salish Nation on Vancouver Island, Canada. She is Associate Professor in Visual Arts at the University of Victoria.