Meta.Morf X – Digital Wild / Trondheim kunstmuseum – Gråmølna, March 5 – May 3, 2020 / Curator: Espen Gangvik
HIROKI YOKOYAMA [jp]
SCENES FROM DAILY LIFE
Scenes from Daily Life (video 2 min. loop) depicts a future in which humanoid robots blend into our daily lives.
In such a world, even their malfunctions would be mundane events.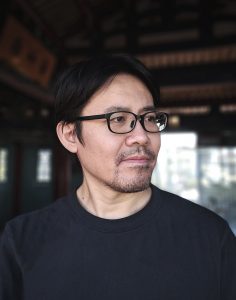 Hiroki Yokoyama is a Japanese designer and filmmaker whose work explores how everyday life in the future or in alternative worlds is changed by existing, emerging, and speculative technologies. He is especially interested in the blurred boundaries between reality and fiction in mundane daily events.
After gaining a B.Eng. Design Engineering from Chiba University in Japan, he started working in a film production company and directed TV commercials, music videos, and short films. After working in the industry, he moved to London to study critical design and speculative design in the Design Interactions programme at the Royal College of Art, London. After completing an MA from RCA, his films have been exhibited and screened internationally at museums, art venues, and film festivals, such as the Design Museum (London, UK), the Southbank Centre (London, UK), the South London Gallery (London, UK), V2_Lab for the Unstable Media (Rotterdam, NL), Berlin Short Film Festival (Berlin, DE), Short Shorts Film Festival & Asia (Tokyo, JP), Sci-Fi-London Film Festival (London, UK), Other Worlds Austin SciFi Film Festival (Austin, U.S.), Shift Film Festival (Maastricht, NL), and Filminute Film Festival.
He currently lives in Tokyo and recently completed an artist in residence programme at the BankART in Yokohama, Japan.