Meta.Morf X – Digital Wild / Trondheim kunstmuseum – Gråmølna, March 5 – May 3, 2020 / Curator: Espen Gangvik
DANIEL SLÅTTNES [no]
PLANT CYBORGS (2015-d.d.)
In 2015 I started off an artistic collaboration with a houseplant. The plant, an ordinary baby rubber plant (P. obtusifolia) happened to sit on my desk when I asked What is life? Personally I think life is what happens in the connections in-between with other beings. I have connections with people, animals, even a mountain or place. I wondered how much I could grow a connection with this plant.
I started simply by spending time with the houseplant. We sat together for long periods and I meditated on what we have in common, its characteristics, my impressions of it. I visualized my breath through my lungs and the same air going through the plant's stomata. This grew a bodily connection. I discovered that we have another commonality in the biosignals going through our bodies. By amplifying the electrical signals via electrodes on my scalp and on the plant's leaves, we could listen to each other's vibrations.
During the experiments on the plant's electrophysiology, I wondered if the plant could be taught to move a robotic prosthesis. It would help the collaboration tremendously if we could be on the same time scale. After a lot of work with programmers, data scientists and electrical engineers we managed to give the plant a prosthesis that reacted to its bio-signals with the help of machine learning.
It's a challenge to try to communicate with a being so far from oneself. On the other hand, we communicate with signals all the time both consciously and mechanically. Now we discover that other species also communicate with discrete signals. Can we learn to make the signals of Others, like plants, give resonance in us?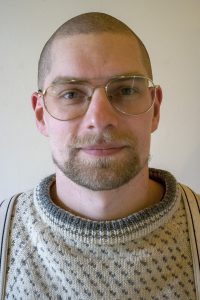 Daniel Slåttnes (b. 1986) lives and works in Oslo (NO) and Västra Ämtervik (SE). He holds a degree in Master of Fine Arts from the Oslo Academy of the Arts (2014). The graduation project "Meditations over form" is an archive that dealt with strategies for sculpting with subconscious choices. Recent exhibitions include Vegetal Connections at Atelier Nord in Oslo, "Anthro-botanical investigations from the studio" at Gallery Hans in Ørland, Consciousness in the Time of Kairos at Kurant in Tromsø (in collaboration with Sara Rönnbäck and Hans Edward Hammonds), Conversation Between Bodies (together with Sara Rönnbäck) at the Art Museum of Nord-Trøndelag and Aldea Center for Contemporary Art in Bergen; Seances with Materials at Podium in Oslo and Hotel Pro Forma in Copenhagen and Platform 1-12 in Slovakia. Upcoming exhibitions at RAM Gallery in Oslo, Oppland Art Center, Arteriet in Kristiansand, and "Tree Talks" curated by LATERNA in collaboration with Black Box Theater in Oslo.
In recent years, Slåttnes has worked with physical and emotional connections to other people, non-humans and sculptures, with an interest in understanding oneself in relation to the outside world. His interest in communicating with things may stem from the feeling that even humans are basically strangers to each other. He explores in several of his works various possibilities to establish a kind of communication with the materials he works with. The meeting between plant and machine is a distinct focus as they are both on the outskirts of what we perceive as conscious life, beyond human recollection. Since 2015 he has explored plant consciousness in collaboration with a houseplant. Vegetal Connections (2018) at Atelier Nord revolved around the biosignals of three houseplants from his studio. For the past four years he has also worked on the idea of material consciousness in collaboration with Sara Rönnbäck through the project "Conversation between bodies".
Member of NBK, UKS, BONO
https://slaattnes.com