Meta.Morf X – Digital Wild / Dokkhuset, March 6 – 7, 2020 / Curator: Zane Cerpina
The Center for Genomic Gastronomy [no/us]
Food Phreaks: Exploits, Experiments and Explorations in the Human Food System
The Center for Genomic Gastronomy was launched in 2010 by an American artist and a Norwegian designer with the belief that there was not enough work being done trying to bridge developments in the life sciences and the burgeoning food movement. Biologists and food activists were attempting to reinvent the way food is grown, processed and eaten, but the belief systems and methods they employed could often be in direct conflict. We wondered if creative research methods could be used to create novel experiences and engagements with the human food system and bring unlikely guests to the same table. Our artistic research has been shaped by our desire to meaningfully engage very diverse groups in the process of imagining a more just, biodiverse and beautiful food system—scientists, hackers, farmers, chefs, food activists and general public on the street. In order to disrupt the rationalist rhetorical strategies deployed by corporations, think tanks, science labs and NGOs we drew on arational rhetorical strategies of joy, generosity, delight, antagonism, bewilderment, awe and disgust, taking inspiration from phone phreaking and biohacking. Although we have continued to keep our focus on the area where art, science, food and open culture overlap, our decade of research has taken us in unexpected directions. For example, Smog Tasting has become a very important artistic research project that we have staged in more than 10 countries around the world, but it deviates from our initial explicit focus on organisms as ingredients, instead focusing on Aeroir: the unique atmospheric taste of place. However, over time this project has led us to create unexpected connections between smog, climate change and the industrial food system. In this talk, we will describe some of the collaborators, methods and outcomes of our work and open up a discussion about the ways art and food can be used to understand and shape how humans inhabit spaceship earth.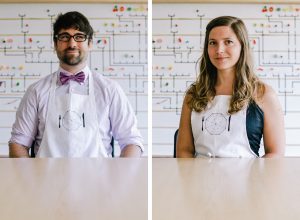 The Center for Genomic Gastronomy
The Center for Genomic Gastronomy is an artist-led think tank founded by Cathrine Kramer (NO) and Zack Denfeld (US) in 2010. They study the organisms and environments manipulated by human food cultures—exploring the biodiversity and biotechnologies of food systems. Their mission is to map food controversies, prototype alternative culinary futures and imagine a more just, biodiverse & beautiful food system.
The Center presents research in the form of public lectures, research publications, meals and exhibitions. They have collaborated with scientists, chefs, hackers and farmers in Europe, Asia, and North America. The Center's work has been published in We Make Money Not Art, Science, Nature and Gastronomica and exhibited at the World Health Organization, Jeu de Paume, V&A, Kew Gardens, Science Gallery, Dublin and others.
www.genomicgastronomy.com