Dokkhuset / March 6, 2020 @ 20:30 / TICKETS
LASSE MARHAUG [no]
THE FIRST EIGHT (2016)
DEATH OF THE NOISE ARTIST (2018)
THE FIRST EIGHT (2016)
Multi-channel audio piece made on commission by INA-GRM which premiered at the PRESENCES électronique festival in Paris, 2016. The sound sources in this piece are mostly acoustic, including voice (Stine Janvin Motland), tuba (Martin Taxt), acoustic guitar (Håvard Skaset), double bass (Guro Moe) and percussion (Jaboc Felix Huele), but the source material has been edited and structured in such a way that sounds more like the electronic noise music Marhaug is known for.
DEATH OF THE NOISE ARTIST (2018)
Multi-channel audio piece made on commission by Tectonics Festival, Glasgow in 2018. This is a 23 minute work that was made during a two year period in Nordland, above the arctic circle in the north of Norway, where Marhaug investigated the environment and surroundings in which he grew up, trying to find paralells in the landscape and his electronic noise music. The piece is a mixture of location recordings made during winter, and electronics inspired by the harsh arctic climate.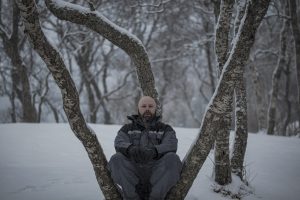 Lasse Marhaug (b. 1974) has since the early 1990s been one of the most active artists in the Norwegian noise/experimental music scene. As a performer and composer he has contributed to well over 300 CD, vinyl and cassette releases over the years, as well as extensive touring and performing live on all continents of the world. In addition to his solo work, Marhaug has collaborated with many artists in the fields of noise, experimental, improv, jazz, rock and extreme metal, as well as working with music and sound for theatre, dance, installations, cinema and video. In 1990 Marhaug ran the TWR Tapes and Jazzassin Records labels.
In the 2000s he ran the record labels Pica Disk and Prisma Records. In 2011 he started his own print publishing Marhaug Forlag. He has also been active as an organizer, promoter, producer and visual artist. Marhaug was born and currently lives in Bodø, a city above the arctic circle in Norway.