SOLO EXHIBITION /  POP-UP @ TRONDHEIM TORG September 18 – 19 / NORDENFJELDSKE KUNSTINDUSTRIMUSEUM,  September 22 – November 1, 2020 /  Curator: Steffen Wesselvold Holden
INES ALPHA [fr]
VIRTUAL JEWELLERY AND 3D MAKEUP
In today's, and more importantly tomorrow's society, people will express an ever-expanding desire to transform themselves. The illusions are everywhere. Using automated social media filters, advanced makeup technics or plastic surgery. I consider my work to be an exaggeration of that worldwide trend and I'm trying to imagine what an absolute aesthetic freedom of one's appearance would look like. This is why my goal is to encourage a fun and creative approach to makeup and self-expression. We need to de-dramatize beauty. I love collaborating with people who inspire me. To me, there is nothing better in this world than finding the right artistic connections. Uniting different skills, styles and backgrounds. Their visual universe and their faces and features inspire me. The way they dress and present themselves to the world, sometimes it's their beauty, sometimes it's something I really can't explain. My dream is to develop an app where everyone can wear my 3D makeups in the most realistic way. I truly looking forward to the day where we will all be wearing contact lenses to see an augmented world with our own eyes.
At present the "3D makeup series" constitutes Ines Alpha's main body of work, where she pushes the boundaries of makeup, working on "digitalised" bodies, allowing for more freedom with the concepts of beauty.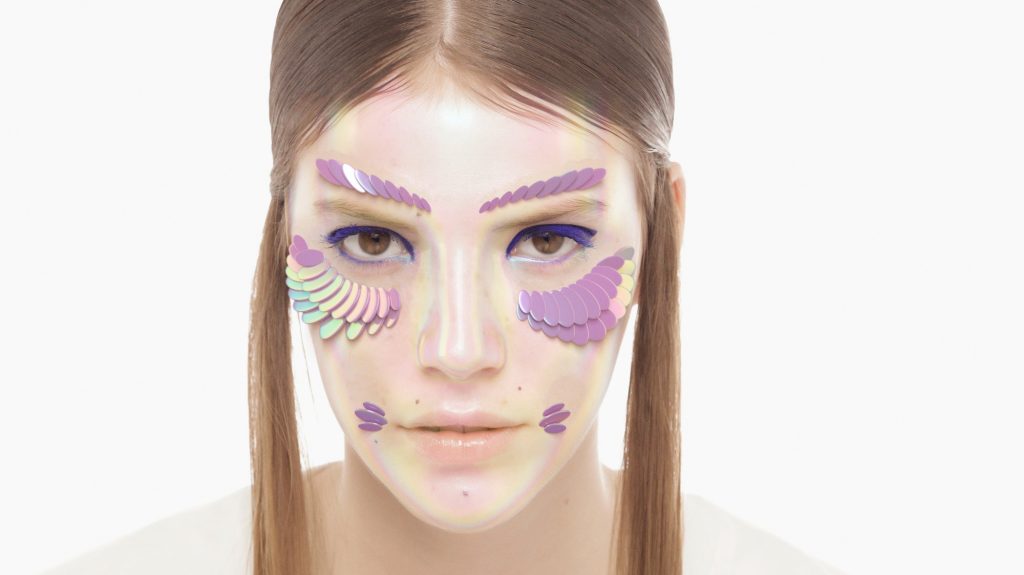 Ines Alpha (b. 1985) is a 3D artist based in Paris. She started experiencing with 3D while working as an art director in advertising, specialised in beauty and luxury. Her first encounters with 3D was when she started making mock-ups for HD still lives and cosmetics. Through this process she also discovered the boundaries of CGI and the limitless possibilities in the technology. She enrolled into several learning programs and learned 3D through video tutorials on how to make organic iridescent blobs and weird creatures. The result of this autodidactic apprenticeship was the unification of 3D and makeup.
Her first notable 3D work was the "Baby F-16″ videoclip, an AR experiment she made with the artist Panteros666. Their next collaboration was the music video "Clear," featuring Woodkid. In their last project, "Meteociel," which is an experimental travel vlog, they have envisioned unexpected encounters with a digital pet. Amongst her recent collaborators we can find Lil Miquela (virtual influencer), Munroe Bergdorf (model, activist), Asung Ko (actress), Melovemealot or MLAM (artist, MUA), Sheidlina (artist, model), Yelle (music), Salvia (make-up artist/ performer), Charlotte Free (Chanel model), Roy Woods (music) and Tiggy Thorn (MUA, artist, club kid).