SOLO EXHIBITION / TRØNDELAG SENTER FOR SAMTIDSKUNST, March 6 – 28, 2020
Curators: Lars Skjelbreia, Tovelise Røkke-Olsen, Randi Martine Brockmann
Live performance: March 6 @ 18:30 / Artist talk: March 28 @ 14:00.
HC GILJE [no]
MELLOMROM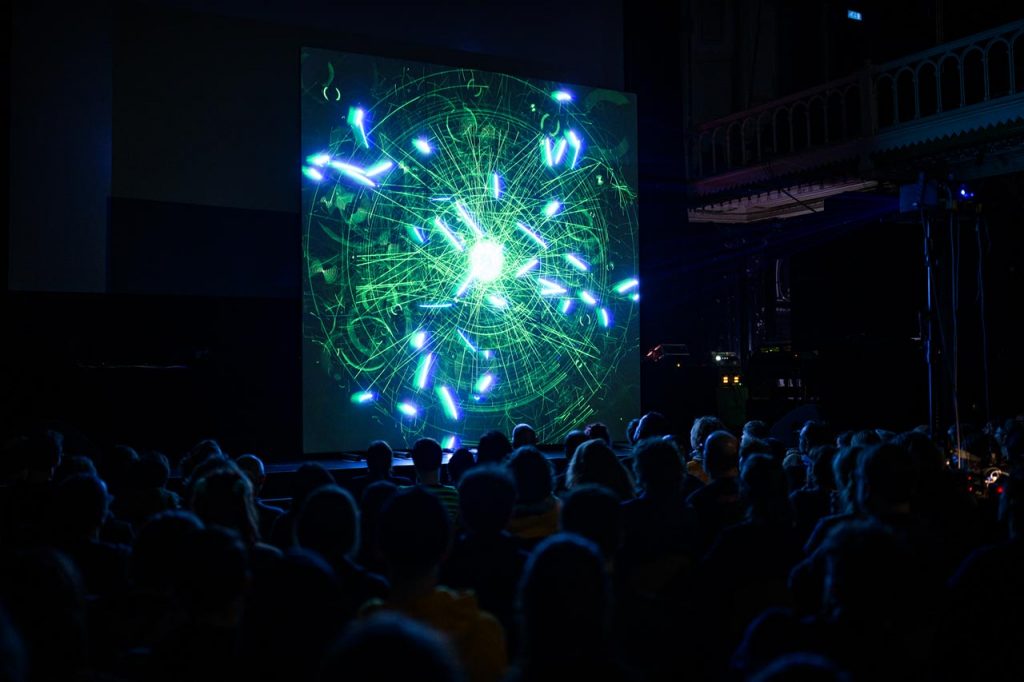 At Trøndelag Centre for Contemporary Art HC Gilje presents two installations that in different ways explore the fleeting borders between us and the other(s) and our experience of light and space. One of the installations is specifically made with the location and exhibition space in mind; Gilje uses the Art Centres large glass facade. Facing a busy street, the work consists of a series of surfaces that can be electrically switched on or off to make them either transparent or opaque. In effect it is possible to experience the intallation both from the inside and the outside of the gallery space at any given moment. By changing the surfaces so that they alter between being transparent and opaque, movements emerges and keeps the space in a constant flux of opening and closing our visual access to the inside and outside. The surfaces transforms our experience of the space, they both reveal and hide and makes the installation act as a temporary border or divider, like a membrane with varying porosity.
The second installation, Radiant, uses a large laser device to create temporary light paintings. The laser sends a white beam of light across the gallery space and imprint lines and curves on an opposite wall, only visible for a short moment before they disappear. The wall is covered with phosphorescent pigment which captures light when the laser rays hits its surface, emitting a green shimmer that slowly fades away. Giving the installation the fitting name Radiant points to the layered laser-painted lines evolving into a glowing green web of shimmering shapes that are constantly overwritten. The relation between the always moving beam of light and the ability of the surface to absorb and emit light creates a tension between the quick and the slow, the present moment in contrast to longer stretches of time, and between what is built up and what is broken down.
Both the phosphorescent pigment used on the wall surface (made from rare earth minerals) and the laser projector are light sources that can be explained by quantum theory: electrons absorbing or releasing photons and thereby changing energy state. Einstein predicted the creation of laser (Light Amplification by Stimulated Emission of Radiation), a light source brighter than the sun, which eventually appeared in 1960 and is now ubiquitous. Unlike other light sources the laser has the unique quality of temporal and spatial coherence, resulting among other things in a monochrome narrow beam of light which stays narrow over distance.
Radiant Live was first commissioned by Sonic Acts (2019, Amsterdam). Additional sound programming is made by David Kiers. HC Giljes exhibition is supported by The Relief Fund for Visual Artists Production grant (BKHs delegerte tildelinger) and Arts Council Norway.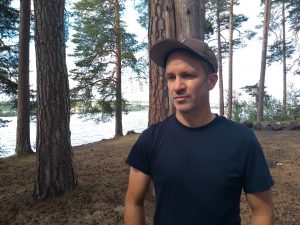 H. C. Gilje
As an artist HC Gilje's (b. 1969) main interest is to explore the visual and optical effects when movement of light interacts with physical structures. When light passes through architectural spaces, physical objects, bodies and landscapes, the movements of the light affects the experience of time elapsing. Gilje has developed tools and mechanical devices that act as instruments, mediators, probes or interfaces to inflict these types of movements from the light and to create interactions with its surroundings.
For over a decade Gilje has explored how ephemeral media – sound, projections, light and movement – can change and activate a space. After finishing his art degree from the intermedia department at the Academy of Fine Arts in Trondheim in 1999, and receiving a residency at Künstlerhaus Bethanien, Gilje moved to Berlin. Being a key figure in the live cinema scene from around 2000 he toured extensively throughout the world, while at the same time creating experimental videos presented at various film, art and festival venues. Gilje was active with 242.pilots, a live video improvisation ensemble, and various other constellations like the dance company Kreutzerkompani (2000–2006) together with choreographer Eva Cecilie Richardsen. In 2006 he moved back to Norway and started working with real time environments, installations, live performance, set design and experimental video.
His recent solo exhibitions include Stereolux (2019), ANX (2018), Kunsthall Grenland (2018), Rake Art Space (2016), Kristiansand Kunsthall (2016) and Woodstreet Galleries in Pittsburgh (2012 and 2015). HC Gilje has participated extensively on international festivals, for instance Sonic Acts in Amsterdam (2010, 2013 and 2017) and LIAF (2013). He joined the project Dark Ecology (2015–17) creating a video installation, a light installation, a live performance and a vertical cinema film. He has also participated
in several group exhibitions, at for instance Skulpturbiennalen (2015–16), Babel Art Space (2014), ZHM in Karlsruhe (2013) and Museum for Contemporary art in Roskilde (2008 and 2010). In 2017 Gilje published the book Conversations with spaces through the publisher uten tittel.
Photo: Pieter Kers