Meta.Morf X – Digital Wild / Dokkhuset, March 6 – 7, 2020 / Curator: Zane Cerpina
Alexandra Murray-Leslie [au/no]
Digitally Enhanced Foot-orthotics to Revolutionise Artistic Swimming
Feet adorned or costumed as the object of visual and performance art have the power to explore and express socio-political and feminist concepts. Alex's ongoing artistic research into the liberation of the feet in theatrical contexts using computational footwear takes on a new dimension with her explorations into kelp based bioplastics for addictive manufacturing processes to produce underwater computational foot-orthotics. Her objective is to transform synchronised swimming into something messy, provocative, non-binary and pop, through the affordances of digitally enhanced foot-appendages on artistic swimmers.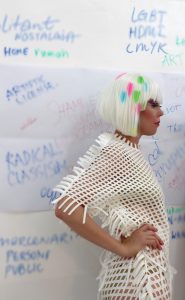 Alexandra Murray-Leslie
Dr. Alexandra Murray-Leslie is an academic pop-artist and co-founder of the art band Chicks on Speed. She is currently teaching at the faculty of Trondheim Academy of Fine Arts and is a member of ARTEC, Art and Technology Task Force, Norwegian University of Science and Technology. Her current artistic research focuses on transit design of algae-based bioplastics for the development of computer-enhanced foot devices for artistic swimming.
Alex has worked in the worlds of on-body technology, computer aided design and manufacturing, sports, art, fashion, and entertainment. She was recently artist-researcher in residence at Autodesk, Pier 9 Technology Centre, San Francisco and held the positions; Artistic Director of Youth Mobile, Mobile World Congress Barcelona 2017 and Director of Entertainment at America's Cup world series 2013/14 in Plymouth, San Diego, and San Francisco, where she worked closely on the America's Cup Healthy Ocean Project outreach and education programs.  
Photo: Alex Murray-Leslie performing in Chicks on Speed, "Noise Bodies", (with high heeled shoe guitar and EMG BioMuse 4 ), exhibition vernissage "Up to and Including Limits, After Carolee-Schneemann" curated by Sabine Breitwieser, Museum Susch, 28.12.2019. Photo: Silke Briel.