Exploded Views 2.0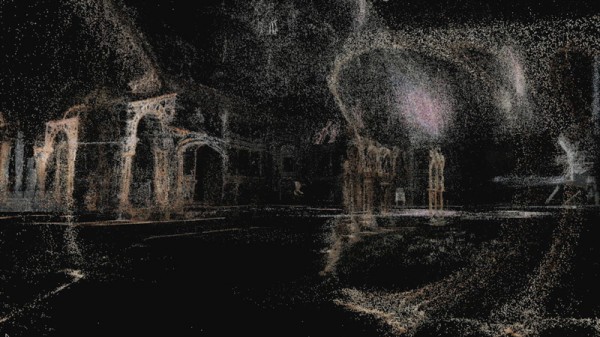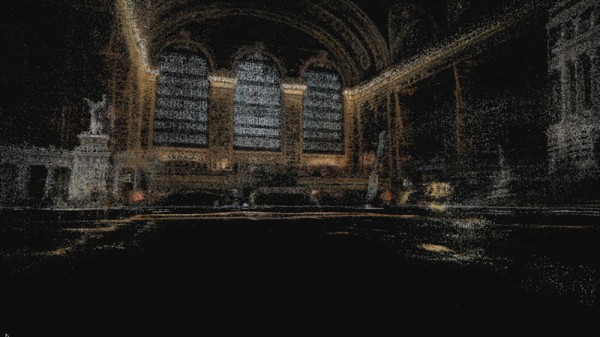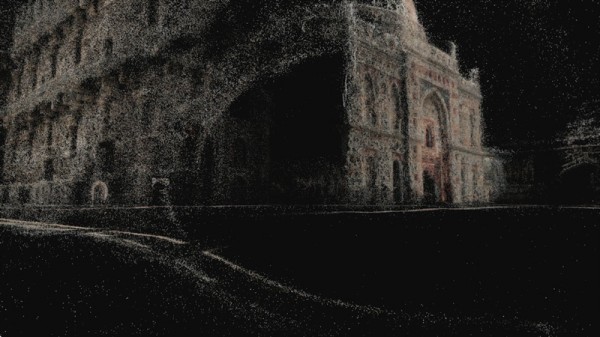 Exploded View 2.0, 2012, Interactive installation
Exploded Views 2.0 – 2012
Exploded Views 2.0 is an interactive installation where the visitor physically navigates through an audio-visual city landscape built up from 'point clouds'. These 'point clouds' are generated from online web 2.0 photo collections like those found in Flickr.
In Exploded Views 2.0, the audience physically moves through an interactive audio-environment and interactive imagery projected on a large screen. The movement of the observer's body sets the 3D images into motion and reveals fragmentised cityscapes from all over the world. The city landscapes are constructed with an innovative 3D scanning technology that creates a surreal and dreamlike atmosphere. These 3D scans are meticulously assembled using complex algorithms from an enormous pool of photographs. Playing with the possibilities offered by the combination of movement and 3D interactive imagery, this installation purposefully places the viewer in an intensely absorptive experience. However, what is actually offered contradicts the reality of the physical and illustrative perception by mediating a juxtaposed dreamlike encounter.
In Exploded Views 2.0, De Nijs further investigates the representation of global urban environments and comments on the prominent role the World Wide Web has assumed in constructing our view of the world and ultimately, on what we perceive as reality. In contrast to the previous version of the installation, the content for 3D city landscape is provided by users of social media platforms. The work analyses GPS tags of all the pictures available on photo-sharing community websites and reconstructs the top 400 most photographed locations into 3D. The work represents the world according to the way it is photographically represented on the web.
Producer: Marnix de Nijs, Rotterdam
Co-producer: V2_organisation, Rotterdam, NL
Scene-reconstruction: Mate Beljan, Sebastian Koch, Benjamin Lück, Prof. Dr.-Ing. Michael Goesele, TU Darmstadt, DE
Financial support: dKC, Rotterdam, NL; FBKVB/Mondriaan Foundation, Amsterdam, NL; AFK, Amsterdam Fund for the Arts, NL
Marnix de Nijs (1970) is a Dutch installation artist. Graduated as a sculptor in 1992, he focused his early career on sculpture, public space and architecture. Since the mid 90's, he has been a pioneer in researching the experimental use of media and technologies in Art. Impelled by the idea that technology acts as a driving force behind cultural change and therefore capable of generating new experiences where societal habits and communication are rethought, his work thrives on the creative possibilities offered by new media, while critically examining their impact on contemporary society and human perception.
De Nijs' work has been widely exhibited at international art institutes, museums and festivals: such as the National Art Museum of China (2008 & 2011 Beijing), Centro di Cultura Contemporanea Strozzina (2008 & 2010 Firenze), Museo Reina Sofia (2010 Madrid), ARoS, Aarhus Kunstmuseum (2009), Centre de Cultura Contemporània de Barcelona (2008 & 2011), Stedelijk Museum (2008 Amsterdam), Moca, Museum of contemporary Arts (2007 Taipei), DAF festival (2006 Tokyo), 6th Shanghai Bienale (2006 Shanghai), Itau Cultural (2002 Sao Paulo), Ars Electronica (2001, 2004 & 2005 Linz), DEAF festival (2000, 2004, 2007, 2012 Rotterdam)
His work won the Art Future Award (Taipei 2000) and received honourable mentions at the Transmediale award (Berlin 2000), the Vida 5.0 award (Madrid 2002), and Prix Ars Electronica (Linz 2001, 2005, 2013). In 2005, he collected the prestigious Dutch Witteveen & Bos Art and Technology Price 2005, for his entire oeuvre.