Meta.Morf 2018 – Dangerous Futures
Oron Catts (AUS) @Dokkhuset, Friday May 4 & Saturday May 5, 2018
See full program here.
Too Late, it's the dawn of the semi dead
Meat that never been in a body, leather grown as liquid collagen in industrial fermenters, rhino horns with no rhinos, milk from no tits, cars that think for themselves, autonomous killing machines and internet enable juicers; These are all products in development at different start-up companies around the world (some have been art works long before). Ideas of exploiting semi-living fragments of complex biological bodies and bodiless thinking machines are becoming the new wet dream of the innovation economy. With the birth of many of these project traced back to critical art projects, one must ask whether the danger of making strange through art is just another R&D arm for the zombie industries of Silicon Valley. The semi-dead are here, what does it mean to the fully living?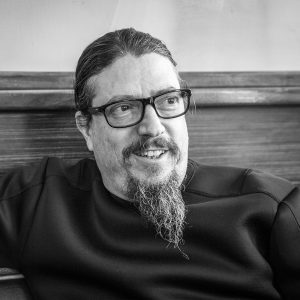 Oron Catts (AUS) is the Director of SymbioticA, The Centre of Excellence in Biological Arts, School of Human Sciences, The University of Western Australia and a Professor at Large in Contestable Design at The Royal College of Arts, London. He is an artist, designer, researcher and curator who is consider a pioneer in the field of biological art. In 2000 he co-founded SymbioticA, at The University of Western Australia. Under Catts' leadership SymbioticA won the Prix Ars Electronica Golden Nica in Hybrid Art (2007), the WA Premier Science Award (2008). In 2009 Catts was recognised by Thames & Hudson's "60 Innovators Shaping our Creative Future" book in the category "Beyond Design", and by Icon Magazine (UK) as one of the top 20 Designers, "making the future and transforming the way we work". Catts was a Research Fellow in Harvard Medical School, a visiting Scholar at the Department of Art and Art History, Stanford University, a Visiting Professor of Design Interaction, Royal College of Arts, London, and a Visiting Professor at the School of Art, Design and Architecture, Aalto University, Helsinki. His work was exhibited and collected by museums such as MoMA NY, Mori art Museum, NGV, GoMA, Yerba Buena Center for the Arts, San Francisco, Ars Electronica, National Art Museum of China and more. His work was covered by The NY Times, Washington Post, Wired, New Scientist, Time, Newsweek and other TV, radio, print and online media.