Meta.Morf 2018 – Dangerous Futures –  Art Science & Cocktails: Dangerous Edition
Orit Halpern (US) @Dokkhuset, Friday May 4 & Saturday May 5, 2018
See full program here.

The "Smart" Mandate: Infrastructure, Responsive Environments, and "Resilient Hope"
Today, growing concerns with climate change, energy scarcity, security, and economic collapse have turned the focus of urban planners, investors, and governments towards "infrastructure" as a site of value production and potential salvation from a world consistently defined by catastrophes and "crisis". From discussions about "disaster capitalism" to the embrace of a world after humans, the idea that some environmental, economic, or security catastrophe has arrived, or will arrive, is almost unquestioned. In response, there has emerged a new paradigm of high technology infrastructure development obsessed with "smart", "ubiquitous", "sustainable" or "resilient" infrastructures.
This talk will interrogate the different forms of futurity and life that are currently emerging from this complex contemporary relationship between technology and design by engaging in a genealogy of "smartness" ranging from cybernetic ideas of machine learning in the late 1950's to early efforts to integrate computing into design at MIT in the Architecture Machine Group in the 1970's to contemporary greenfield "smart" developments, "smart" infrastructures" in extraction industries, and automated supply chains. In doing so, the talk will ask how these contemporary practices in ubiquitous computing, responsive environments, and "resilient" planning are shaping the design of large scale infrastructures and our imaginaries of the future of life.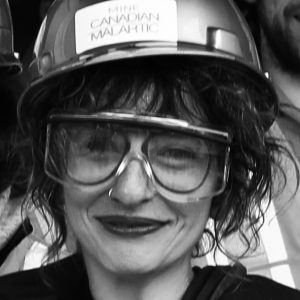 Dr. Orit Halpern (US) is a Strategic Hire in Interactive Theory and Design and an Associate Professor in the Department of Sociology and Anthropology at Concordia University. Her work bridges the histories of science, computing, and cybernetics with design and art practice. She is also a co-director of the Speculative Life Research Cluster, a research-creation laboratory situated at the intersection of the computational and environmental sciences, design, and anthropology (www.speculativelife.com ). Her recent monograph, Beautiful Data (Duke Press, 2015), is a history of interactivity, data visualization, and ubiquitous computing. She is currently working on two books; the first is a history and theory of "smartness", and the second is about extreme infrastructures, resilience, and speculation. She has also published and created works for a variety of venues including e-flux, Rhizome, The Journal of Visual Culture, Public Culture, and ZKM in Karlsruhe, Germany.